Interview: Jason Mewes on 20 Years of Jay and Silent Bob, and the 'Super Groovy Cartoon Movie' in St. Louis May 18
What were some of the more challenging aspects of making the film? Were there any snags along the way?
I wouldn't say that it was necessarily a snag, but I would say it held us up in a good way. Every time we would start and get a voice over, we'd start going through stuff and sit and want to change jokes. The one thing is, Kevin wrote the script… I don't know how long ago. But let's say five years ago, four years ago at least. So some of the jokes were older, and after it was animated Kevin would want to change a joke or change this… and the animator would start re-doing some of the animation for the mouth movements and this and that.
So I wouldn't say that it was a snag, but again – we wanted it to be funny, and we wanted it to be perfect. So people enjoy it, and think that it is funny, and so we can possibly go and do another one after. I mean, I already told Kevin, "I wish I could write, and we could already start writing the next one." But hopefully this will go over well, and people will dig it.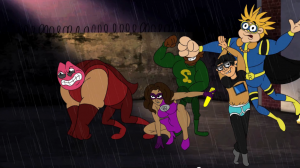 We can't go do 5 'Jay and Bob' live action movies. We're gonna be 40, and 45 and then 50. But shoot man, you can do 'Jay and Bob Fight the Avengers' or something… I don't know. So, it will be fun.
So no snags, thanks goodness there's been no snags. Again, I think because of the generosity of the friends, and people chipping in. The really awesome people, and talented people. The dude doing the opening credits and stuff, very talented. And Steve Stark is talented… and his girlfriend chipped in some stuff and she's super talented. Everyone was just really talented and was psyched to chip in – and that's awesome.
Did you guys do all the voices first, and then animate to the voices? Or how did that work?
Steve Stark animated the characters. He went through the script, and animated some backgrounds and some of the characters and what they'd look like, and all that. But yeah, after he'd get the dialogue he would animate the characters' movement – their heads and faces and the eyes.
How long would you say the process took for recording all the dialogue?
It really was just here and there, on peoples' schedules. The good thing is that a big chunk of it is my dialogue, so Steve definitely had a bunch of stuff to do with mine. And we got a couple of my buddies right off the bat in the beginning, and in the middle. So he was able to get through a good portion of animation and backgrounds and stuff right off the bat.
It wasn't like, "Hey, be here Monday to Friday, between 12 and 5," and everyone had a schedule. It was really like, "Hey man, I know you're super busy, Ralph Garman, but can you come in on Tuesday? What's a good time for you?" And he'd tell me and we'd try and setup at least 2 or 3, or 4 people to come in back-to-back. If we're going to be at the sound stage, and we're gonna rent it, why don't we just say, "Hey Ralph, you can come in at 12? Perfect. Jon Lovitz, come in at 1 o'clock." And so that was sort of how we worked. If people were busy for the next four days, we'd have to wait until they were available.
Since they were so generous, and being a part of the project and all that, I wanted to make it as easy as possible. It was like, "if you can't do it until Friday between 5 and 7, I'll come to you and make sure I get something close-by – and see you there.
Did you have to rent out a bunch of studios, or did you do a lot of it at the same place you do the SModcast stuff?
Really, both. Some of the places, we wanted to make it very convenient for the people. So we went and rented out a place for an hour, next to them. And then I have a studio at my house. A full on system, sound-proof and all that. People came to my house and did some. It was a little mix and match really.