Interview: Jason Mewes on 20 Years of Jay and Silent Bob, and the 'Super Groovy Cartoon Movie' in St. Louis May 18
It's amazing how those internet rumors spread. I know at one point online Kevin Smith was going to make a Green Arrow Movie, and you were going to star in it. And he said that it wasn't really happening.
Yeah. I mean, again, that would be awesome. I know there was a point on Green Hornet where Kevin was writing, and he was going to direct it – there was a techie character where he was going to put me in. You know, it definitely would have been dope.
It goes as far as even at one point, it was going around that I was dead. I remember one day my cousin called from New Jersey and was like, "Oh my God, I'm so glad you answered." My niece heard at school, at Henry Hudson where I went to school, and was like "I'm so sorry to hear, I just wanted to tell you before you heard from somebody else." So, pretty weird.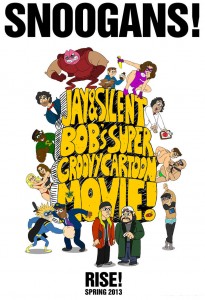 When I heard about Jay and Silent Bob's Super Groovy Cartoon Movie, the first things that came to my mind was Clerks: The Animated Series. It was hilarious. Why do you think it only aired for two episodes on ABC?
You know, I think it was definitely before its time… I enjoyed it very much. I think the jokes were there, I thought it was funny and the animation was cool. I think it worked, and especially now seeing King of the Hill, and Bob's Burgers. I don't think it was any less funny than the shows that are out now – the cartoons that is.
I think the only thing that was out really was possibly Simpsons. Maybe Family Guy. There was no Futurama, and Bob's Burgers, and all these cartoons that are out now. Again, I think it was just before its time for sure.
Luckily we have another cartoon coming out here. At one point Kevin mentioned on Twitter that he was trying to revive the animated series. Is he still working on that, or has this project kind of taken over?
No, I think the Clerks cartoon was something that he had talked about a little bit with the studio. Kevin sold Clerks to Miramax, and the Weinsteins. I think he had been talking to them about, you know, if it was possible to bring back – or somewhere else. I'm not sure where he's at with that, but as for Clerks 3 – same thing. It's something Kevin has talked about, and he has a story for it – and idea. But Brian O'Halloran has to agree to be in it, and Jeff Anderson. And then also he has to talk with the studio.
So I know that is something that will probably come up at some point, but right now he and I are both pretty focused on the podcasts, and the YouTube channel, and then touring with this cartoon. And then Kevin has other stuff going on that I'm not even involved with.
With the cartoon, this is your first time producing a film. I know you have all the SModCo stuff, but how did you prepare for the additional responsibility that goes along with being the producer?
At first I had no idea really. I told Kevin, "I want to produce something." And he gave me the script. I didn't know the exact details of what the producer did really, but my main thing really was like, I've just gotta take this thing and get it on its feet. I don't think there was a whole lot of pressure… I had help from my wife, who is partners with Kevin in SModCo, and she's awesome.
Mainly I just wanted to get the animator. I know I was paying him out of pocket just to get it going. At first I was going to shop around, and get some financing. Then I started asking around like, "Oh, if I wanted to get an animator like Pixar style, or Clerks the Animated style even… how long will it take, and how much is it going to cost?" Example: for Clerks: The Animated Series, a 22 minute episode was $450k dollars. We wanted to make at least a 70 minute cartoon feature here, so 22 times 3 – we're looking at a million and three. And I don't have a million three bucks to put into a cartoon – A – and also that type of animation, with the script being 70 pages, would be almost 2 or 2 ½ years to get made. So that was the first process.
Right away, I was like, "I Love Steve Stark's animation." He does SModimations for Kevin, where he takes podcasts and animated them. And he really puts his own style on it. He's a great director of the animations, and the eye movements, and all that stuff. We talked to him, and he said he could do it in such and such time, so that's sort of where we went with that.
And then my other thing was mainly going and trying to get people, thinking about who's going to do the voice overs for which characters. And I started calling around, asking some people to do some voice over stuff, and setting up the sound stages for people to meet there and start recording. I started directing them like, "do it a little bit angrier," and everyone put their own spin on it. Eliza Dushku did awesome – I knew she'd be great. But she even gave it more than I expected. So, I wouldn't say there was pressure, because I loved it and I was excited to do it.
For Kevin to trust me to go try and do something with his script – I know usually he doesn't let his scripts go out in the world and have a chance to fall in peoples' hands. So I just felt honored to do that. And I was excited that right off the bat I get to do my own voice overs, so I had that taken care of. And then I got the animator on board, and it started.