Interview: Jason Mewes on 20 Years of Jay and Silent Bob, and the 'Super Groovy Cartoon Movie' in St. Louis May 18
Do you have any plans in the back of your mind for future projects you would like to produce? What about trying your hand at directing?
I mean, I'm hoping this goes as planned and we get to do more. I definitely wouldn't mind producing and going through the process of doing another cartoon.
I'd love to direct some short movies, and then eventually a feature. Like some live action. I directed one music video, and just wrote a treatment to try and direct this other music video. I'm waiting to hear back if it's a go. I really dig directing, and I'd love for that to be the next thing I do.
You have been in a ton of films over the past couple of decades, branching out from your Jay and Silent Bob persona. One of your recent films that sticks out in my mind is Zack and Miri Make a Porno. You weren't "Jay" in that movie – you were Jason Mewes.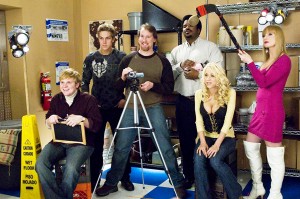 It was a lot of fun. It was definitely great to work with Kevin, and do something different. Working with Kevin is working with Scott Mosier, who is the producer on all of the movies. And David Klein, the DP, and the line producer Laura Greenlee. The same people have worked on almost every movie, and so every time I see the movie it's a family affair. Zack and Miri was awesome to have that… but play a different character, and sort of be part of a different universe, if you will. It was fun.
I noticed in Jay and Silent Bob Go Down Under you wear a "Gears of War" hat. You also wear it in Noobz, which came out earlier this year. Are you a gamer in real life?
Oh, definitely… I'm really into "Call of Duty" right now, I'm sort of hooked on it. I go back and forth, and play throughout the day. I try not to sit too long in one sitting. Two hours can go by and I don't even realize it. But "Call of Duty," and I'm playing "Batman Arkham Asylum." I really love the LEGO games, all of them are awesome. "Lego Batman DC Super Heroes," Lego Lord of the Rings," "Lego Star Wars" – I mean, they're all a blast! "Gears of War" a little bit here and there. So yeah, I definitely play my share of games.
Now that marijuana is becoming legal in more places, do you think Jay will get is medical dispensary license?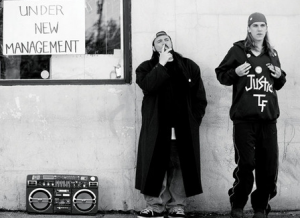 Ha, I don't know. That would definitely be a good plot for the characters. It makes sense that every time Kevin writes a movie about [Jay and Silent Bob] he sort of keeps them up to date, and that would be something they would have to do. They're not going to be able to stand on a street corner, in front of the Quick Stop anymore. They have to stand in front of a dispensary / own a dispensary, and see what happens.