First 'Hangover Part III' Poster and Trailer (Bradley Cooper, Zach Galfianakis, Ed Helms, Ken Jeong)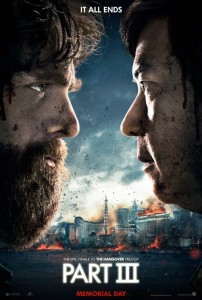 The boys from The Hangover are back, and this time they are back in Vegas. I think the majority of us would like to forget that the second film ever happened. The first trailer looks funny, but the real test will come Memorial Day when the film hits theaters. The Hangover Part II made oodles of money, and it's likely that Part III will as well. However, will as many people come back after the last installment was considered a disappointment? Most likely yes, but I doubt we'll see record breaking numbers for the film. All the major players are back, which means we will at least have consistency.
Check out the new poster and its similarity to the Harry Potter and Deathly Hallows poster. Think it is a coincidence? Probably not.
Synopsis:
This time, there's no wedding. No bachelor party. What could go wrong, right? But when the Wolfpack hits the road, all bets are off.
Cast: Bradley Cooper, Ed Helms, Zach Galifianakis, Ken Jeong, Heather Graham, Jeffrey Tambor, Justin Bartha, John Goodman, Sasha Barrese, Gillian Vigman, Jamie Chung
Director: Todd Phillips
Release Date: May 24, 2013