'Much Ado About Nothing' HD Trailer – Directed by Joss Whedon (Alexis Denisof, Amy Acker, Nathan Fillion)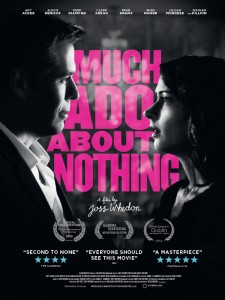 Joss Whedon has long been known for his quick dialogue and sharp wit, so why wouldn't he be a great match for the Bard? Now that Joss Whedon is uber-famous after directing 2012's biggest film, The Avengers, people are starting to take notice of his other projects. Much Ado About Nothing is a direct adaptation of the Shakespeare play, but with a modern look.
The film was shot over 12 days at Whedon's own home in Santa Monica in September 2011, shortly after the wrap of The Avengers. The most amazing thing is that the project came about as an afterthought. Whedon and his wife, Kai Cole, decided to skip their vacation instead to film the adaptation. The idea stemmed from hearing Amy Acker and Alexis Denisof as Beatrice and Benedick at one of their regular Shakespeare readings. The film was kept a secret until October when Fillion tweeted about the film.
The cast is made up of friends and starts of his other projects. If you've seen a Whedon project, you've most likely have seen Amy Acker, Alexis Denisof, Nathan Fillion, Reed Diamond and Clark Gregg. The black-and-white film has splashes of color to liven it up, but the with the pace of the story, it's unlikely it will need it.
Check out the trailer below and let us know what you think in the comments!