George Lucas Confirms Harrison Ford, Mark Hamill, and Carrie Fisher Returning in Star Wars VII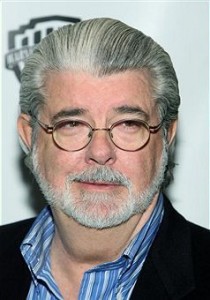 Yesterday, numerous sites were alive with the news that Carrie Fisher announced she would be returning to the Star Wars universe.  However, today her reps issued a retraction saying the actress was "joking".  Which could be possible as Fisher described the character as "elderly" and said, "She's in an intergalactic old folks' home. I just think she would be just like she was before, only slower and less inclined to be up for the big battle."
Hot on the heels of that is a George Lucas confirming that the cast has already been contracted to appear in the films.
Lucas is quoted as saying:"We had already signed Mark and Carrie and Harrison — or we were pretty much in final stages of negotiation. So I called them to say, 'Look, this is what's going on.' Maybe I'm not supposed to say that. I think they want to announce that with some big whoop-de-do, but we were negotiating with them. I won't say whether the negotiations were successful or not."
Lucas makes it sound as if a new Star Wars trilogy was going to happen even if Lucasfilm was not sold to Disney, despite years of adamantly saying there would be no more films in the series. Despite that, it appears he is no more than a consultant on these films, and isn't going to be a guiding force in the stories. Take what you will from that.
To read the entire article. Click here.