Famous Celebrity Siblings – Winners and Losers
Mark and Donnie Wahlberg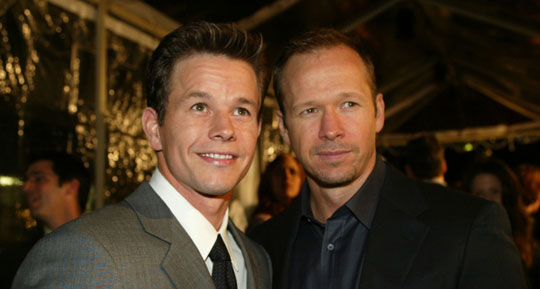 About Mark
Most people don't know that Mark at age 13 was one of the original members of New Kids on the Block, along with his brother Donnie. However, at the tender age of 13 he quit. He later found success with Marky Mark and the Funky Bunch, where their single "Good Vibrations" hit number 1 on the Billboard charts.  In 1993 he started his acting career, and found critical fame with his turn in Basketball Diaries. In 1997 he achieved great critical response as a pornstar in Paul Thomas Anderson's Boogie Nights.  Since then he has starred in hits like Three Kings, Planet of the Apes, The Perfect Storm, The Italian Job, The Departed, The Other Guys, The Fighter, and Ted.  Mark has also found considerable success as a producer. The hit HBO series Entourage is produced by Wahlberg, and is based loosely around his Hollywood career.
About Donnie
Donnie Wahlberg's biggest claim to fame is his status as an original member of New Kids on the Block, which is one of the most popular boy band groups of all time.  Donnie didn't get the acting bug until 1996 when he starred in Bullet, which featured another musician, Tupac Shakur.  He's had small roles in films like The Sixth Sense, but his most popular roles comes from the HBO miniseries Band of Brothers, where he played Carwood Lipton, one of the major players in the series. His work in that series landed him a role specifically created for him in the short lived show, Boomtown. Since then Donnie has had a steady but unimpressive body of work.
Who is the winner?
MARK
Mark Wahlberg has shown an undeniable talent in a variety of roles ranging from comedy to drama. He's taken some questionable roles in the past, but has been on fire in the past few years.  With great performances in The Other Guys, The Fighter, The Lovely Bones, and Ted, Wahlberg has become a force all of his own. To top it all off, he is signed on to play the lead in the new Transformers films. Donnie has shown great promise with the roles he's taken on, but he just isn't as commercially viable as his younger brother.