Famous Celebrity Siblings – Winners and Losers
Chris and Liam Hemsworth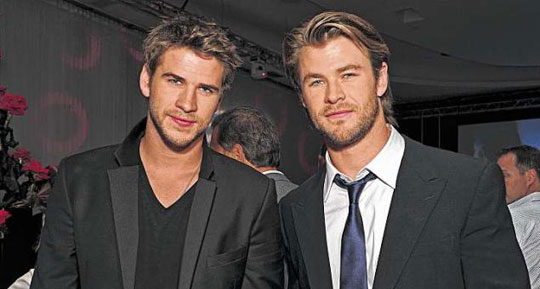 About Chris
Chris was unknown to most American audiences until his small role in J.J Abram's Star Trek, where he played the short-lived father of one Captain James T. Kirk.  He's been popular for a while now in Australia, mainly due to his role on the Australian soap opera, Home and Away. The actor really took off when he landed the role of Thor in the Marvel film series.  Chris received even more exposure as the character in 2012's The Avengers, which cemented his hearthrob status. Hemsworth also had a great role in 2012's Cabin in the Woods where he delighted audiences with his jock archetype. With another Thor film on the way, and after that an Avengers sequel, we should expect to see him around for a while.
About Liam
Like his older brother, Liam has been an Australian star for a while, but took to American celebrity culture when he started dating pop star/actress Miley Cyrus in 2009. These days he's married to Cyrus, and has moved beyond projects such as The Last Song, which he co-starred in with Cyrus.  Liam is now one of the starring characters of the hugely successful Hunger Games series. His role as Gale Hawthorne is likely to grant him the attention of numerous women in a various generations. He also was a star in the recent Expendables 2, in which he was shared the screen with some of the biggest action stars in film history.
Who's the winner?
CHRIS
This one is a close one. Both brothers are part of very successful franchises, but Chris has done more in the short time they've been state side. It might not always stay that way, but judging by press done by both, Chris seems the more charismatic of the two.  If I had to wager on who is more likely to stay in big Hollywood films, I would say the elder Hemsworth has the best chance. I've been wrong before, but I don't see the Hunger Games series being a bigger draw than Marvel's Avengers. Time will tell who wins out, but for the moment Chris takes the prize.