Famous Celebrity Siblings – Winners and Losers
Nepotism runs wild in Hollywood. It's evidenced by all the Hollywood families out there. There are plenty of  Hollywood siblings out there who have gotten a leg up from each other. The thing is, one is always going to get more famous than the other. So, who are the winners and losers in these Hollywood sibling  rivalries?
Casey and Ben Affleck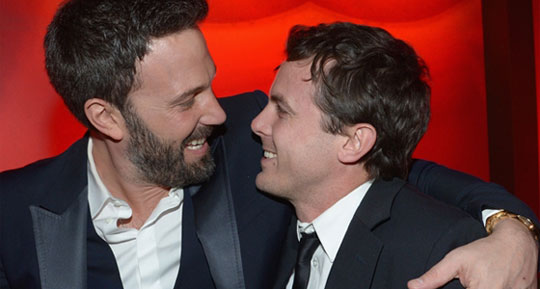 About Casey
Getting his first big roles from his big brother in films like Good Will Hunting allowed Casey to breakout as an actor. His biggest roles are the Ocean's 11 trilogy, where he plays one of Danny Ocean's crack heist team, and Robert Ford in the incredible The Assassination of Jesse James by the Coward Robert Ford, where he plays one of the title characters, Robert Ford. Casey also had a great turn as a private investigator in search of a missing girl in his brother's directorial debut, Gone Baby Gone. He recently made his directoral debut as well, documenting brother-in-law, Joaquin Phoenix's downward spiral in I'm Still Here. The film had mixed reviews as people couldn't distinguish if it was a mockumentary or a true documentary. Regardless, it was a step forward in Casey's career. Casey has three film coming out later this year, one of which, Out of the Furnace, has him starring alongside Oscar winner Christian Bale.
About Ben
Rising through Hollywood in the early 90s with prominent roles in Kevin Smith's Mallrats and Chasing Amy, Ben cemented his Hollywood status by winning an Oscar with buddy Matt Damon for penning Good Will Hunting.  Ben was flying high for a while also taking popular roles in both Shakespeare in Love and Armageddon. Throughout the rest of the late 90s and early 2000s Ben took a number of roles that had limited popularity. However, after a high profile relationship with Jennifer Lopez, and subsequent panned performances in Jersey Girl and Gigli, Affleck seemed doomed to be a Hollywood afterthought.  All that changed in 2007 when he directed the thriller Gone Baby Gone, based on the Dennis Lehane novel of the same name.  The solid start led to him directing 2010's The Town which once again gave him critical praise for his direction.  2012 was his biggest year yet with the release of Argo. The film was one of the best reviewed films of the year, and cleaned up in end of the year awards, culminating with a Best Picture win at the Academy Awards.
Who is the winner?

BEN
This one is no contest with Ben's recent Oscar win. Despite the snub for Best Director at the Academy Awards, he can take solace in the Best Picture win, as well as Best Director wins at the BAFTAs, BFCA, and Golden Globes. There were a number of years where it looked like Casey could be catching up with his brother, but let's face it, he was never the pop culture force his older brother is.  Ben Affleck has cemented his place on the Hollywood A-list for years to come. There is even a possibility after 3 great films (and co-writing an Oscar winning script in the 90s), that Ben could go down as one of the best filmmakers of his generation. Sounds fine now, but how would it have sounded 10 years ago?