Wizard World St. Louis Comic Con: A Weekend in Review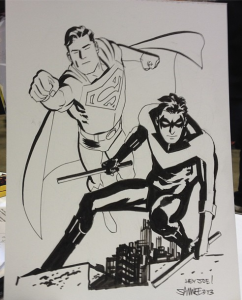 One of the things that draws me into a convention is the chance to meet some of my favorite writers and artists.  This convention was no different. I had the opportunity to meet some of St. Louis' best and brightest.  Chris Samnee, the current artist on Daredevil, was a real treat.  He was crazy nice and signed just about anything anyone put in front of him.  He was also very approachable and willing to answer all kinds of questions. I was hoping to get a video interview, but the snow on Sunday prevented me from making it to the show.  Samnee also drew me an incredible sketch of Superman and Nightwing. I think it is a great representation of his work and of what's to come with his work on Adventures of Superman.

I also met Cullen Bunn and Brian Hurtt.  Cullen is the writer of Marvel's Venom and The Fearless Defenders. He and Brian are the co-creators of Oni Press's The Sixth Gun. Both gentleman were extremely nice and also took the time to sign whatever was put in front of them.  Much like Samnee, both guys were very approachable and were willing to talk about any past, present, or future projects.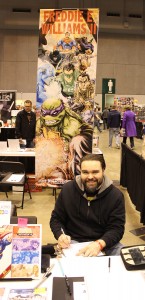 I also had the privilege of meeting Freddie Williams.  Freddie was the artist on Captain Atom (one of my favorite characters).  Unfortunately, the title was cancelled after 13 issues. Not only was Freddie gracious about the fact that I had all 13 issues, but he gave his opinion on why the book was cancelled and how the design of the character came into being.  The thing that stood out for me was the way he talked to a young kid who couldn't have been more than ten.  He was getting something signed, and he asked if Freddie would take a look at his drawings.  Freddie obliged, and the boy pulled out a giant sketch pad with all of his artwork inside. Rather than just flipping through the drawings, Freddie commented on every single piece of work the boy showed him.  Williams went over things with the kid and offered advice.  That blew me away.  Williams could easily have blown the kid off, but instead he built him up and stoked his creative fire.  I was really impressed.