The Decade's Best – Wet Hot American Summer (2001)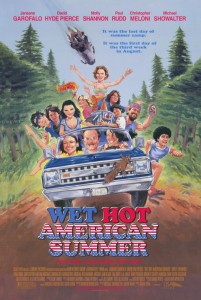 Released under the radar and still no more than a cult following today, David Wain's feature debut is a silly, absurd, insane, and bizarre film that pokes fun at cliché through the world of a Jewish summer camp that is about to end it's summer run and the results are hilarious.
It is the last day of camp at Camp Firewood and when the longest conversation ever between our hero, Cooper, and camp counselor hottie Katie sparks a desire inside our hero the quest for love begins. Now, I know that sounds corny and all but that is the simplest and most understandable plot description of the film. This is the most consistent theme that pops up throughout the film, but once the first few minutes of the film passes by you are about to enter a random world of silliness that you won't soon forget. A sexually repressed Vietnam vet cook, gay marriage, capture the flag, astrophysics, robbing an old lady, dying children, a van crash, drug binges, a talent show, countless make out sessions, and a trip into town if only for an hour are only the tip of the iceberg of the events that unfold over the single day the film takes place over. And every single one of the above events will have you laughing, yes even the children dying. The random absurdity keeps the film fresh, fast, and completely unpredictable with a joke rarely missing the mark. The film is also layered and sneaky with new quirks and jokes popping up every time you watch the film as there are little easter eggs of silliness hidden in every frame of this film it seems.
The films ability to also parody and satirize all those clichéd moments you find in films couldn't be any sharper and the way Wain and Showalter flip these conventions on your head will have you shaking your head at any film that takes them on. The humor is just as sharp when it comes to the original material as well, with some jokes and the cleverness behind them being really surprising in such a silly and absurd world that is Wet Hot American Summer.
The cast for the film is also phenomenal and stars many household names of today long before they were ever stars. David Wain pulled some of the cast from his days with The State, including Joe Lo Truglio, Michael Ian Black, Ken Marino, and co-wrote the film with Michael Showalter. Wain also nailed some top talent in the likes of Janeane Garofalo, Molly Shannon, and David Hyde Pierce. The rest of the cast consists of smaller names at the time in the likes of Paul Rudd, Amy Poehler, Elizabeth Banks, Bradley Cooper, Christopher Meloni, Marguerite Moreau, and A.D. Miles. As you can see, the talent on display here is hard to compete with and all of them turn in some of their funniest work out there.
The real standouts though are David Hyde Pierce and Christopher Meloni who are so obviously having a blast that they are just infectious to watch. Meloni plays the camp cook and has some wonderfully awkward moments with A.D. Miles and a can of Vegetable Soup that are hard to top in this film. Pierce on the other hand plays a nerdy astrophysicist that takes a group of indoor kids under his wing as he flirts with Garofalo's camp director. The initial meeting between the two is comic gold and to spoil it would be a crime.
In fact, telling you any of the jokes would be a shame as they are best experienced off guard and unexpected as they will knock you on your ass repeatedly – as they never stop coming. But I hope I have laid the groundwork for not only what you are getting into, but give you a taste of the talent involved to peek your interest in the film. The fact that I am listing it in this series is no fluke either and I urge you to seek this film out for enjoyment as it is a comedy gem that is far too undiscovered considering its brilliance.
Go find Wet Hot American Summer!
Previous Films in "The Decade's Best":