Ratings for CW's "The Beautiful Life" are NOT so beautiful – show is canceled.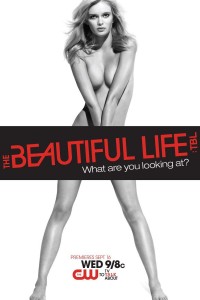 It looks like it is the end of the line for CW's supermodel drama "The Beautiful Life" due to its poor ratings. The show, created and produced by former male model Ashton Kutcher, failed to impress its target audience. The first episode of the series premiered with an audience of only 1.5 million. The second episode dropped down to only 1 million – a third of the initial viewers. With those kind of numbers, the CW decided to pull the plug. "The Beautiful Life" will be replaced by repeats of "Melrose Place." The show is the first of the new fall TV shows to be canceled.
I don't think that Ashton Kutcher will be working with the CW again any time soon.
If you would like to watch the first two episode of "The Beautiful Life," and see what it is all about, check them out below:
Episode 1 – The Beautiful Life – Pilot
Episode 2 – The Beautiful Aftermath
About CW's "The Beautiful Life"
The life of a high-fashion model appears glamorous and sexy, but as every new model quickly learns, behind the beautiful façade is a world of insecurity and cut-throat competition. Two teenage models who are about to discover this world for themselves are Raina Mayer (Sara Paxton, "Last House on the Left"), a stunning beauty with a secret past, and Chris Andrews (Benjamin Hollingsworth, "The Line"), a strikingly handsome Iowa farm boy.
When Raina makes an unforgettable impression at a show introducing the new line from designer Zac Posen (appearing in a cameo role), she steals the spotlight from her friend Sonja Stone (Mischa Barton, "The O.C."). Sonja has been out of the country for mysterious reasons and is now desperate to reclaim her standing as the reigning supermodel. While Raina and Sonja live at the top of the fashion food chain, Chris is starting at the bottom, having just been discovered by an agent at the Covet Modeling Agency, which is owned by former supermodel Claudia Foster (Elle Macpherson, "Friends").
At his first photo shoot, Chris' inexperience almost derails his career until Raina comes to his rescue, showing him how to relax and work the camera. That afternoon, Raina brings Chris to the "models' residence" where she lives along with other young hopefuls, including Marissa Delfina (Ashley Madekwe, "Secret Diary of a Call Girl"), Isaac Taylor (Corbin Bleu, "High School Musical 2") and the current alpha-male-model known as Cole Shepherd (Nico Tortorella, "Twelve").
At an exclusive industry party that night, Chris is again impressed by Raina's generosity when she steps aside to make sure Sonja lands a job that will resurrect her career. However, after an ugly scene with an agent, Chris is left to question whether he can survive in this world of dangerous excess and fleeting fame.
THE BEAUTIFUL LIFE: TBL is from Katalyst Films in association with CBS Television Studios and Warner Bros. Television with executive producers Ashton Kutcher & Jason Goldberg ("True Beauty," "Punk'd"), Karey Burke ("True Beauty") and Mike Kelley ("Swingtown," "Jericho").