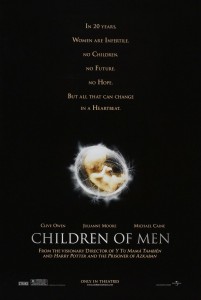 It's almost hard to believe the first decade of this new millennium is almost over, but that just means we get to start debating what were the best films of this young century and why we think so. Over the next six months we will have a series of essays of my reflection and discussion on what made these films great to me and why I would love for you readers to seek them out. So sit back, take a gander, and let me know what you think. Agree, disagree, call me an idiot, but let me know in the comments why you loved it, hated it, or thought these films were just ok.  So without further ado lets take a look at the decade's best…
Alfonso Cuarón's – Children of Men (2006)
In 2006 Alfonso Cuarón crafted one of the best sci-fi, dystopia, and adventure pictures of the decade in Children of Men. A smart, fast paced and thrilling ride that grabs you from the first scene and never let goes, Children of Men is a can't miss adventure.
The year is 2027 and the last baby born was in 2008 and the global infertility has caused mass chaos across the world leaving England as the last somewhat secure and peaceful place to live. That is beginning to change though as a terrorist group known as the Fishes has been reeking havoc across the country planting bombs and causing disturbances in the name of proper treatment of refugees. Our hero Theo, played by the always great Clive Owen, is almost blown up by one of these bombs when getting his morning coffee and we get a glimpse of life of a non-refugee in this dystopia London. Illegal Refugees are being rounded up daily, the middle class parts of town are run down and violence is at every turn. When Theo is abducted by a group of fishes he finds out that his ex-wife is their leader and that they need his help for an important cause to the refugee movement.
From here Cuarón expands the vision of the ravaged world even further by showing us how the upper class still live a high society life as the world crumbles around them. Living in a gated community and full of pompous activities the rich carry on like nothing is wrong and are more concerned with greed than the decline of the human race. After getting what he needs from a cousin Theo reports back to his ex, Julian, and they head off on their path which may save humanity in the end.
The film is so effecting do to the fact that something like global infertility isn't too out of the ball park as a possible pandemic the world could endure. The film touches on pandemic flu, global destruction, terrorism, governmental violation of human rights, it was a very Bush era inspired commentary on where the world might be heading if that mentality is allowed to survive. A loss of civil rights, moral treatment of citizens and immigrants, positioning for political gain, and the violent reactionary nature of the human condition when posed with a crisis are all strongly represented in the picture and we aren't too many steps removed from heading in this direction at the sign of a global crisis.
On top of the so close to reality its scary plot the filmmaking on display at this picture is second to almost none. Cuarón's craft and vision is mind blowing in the film. He stages elaborate single takes that are more than just walking up and down a long corridor. Characters are flying in and out of the shot, buildings blow up, platoons of soldiers run through the streets, tanks roll through blowing stuff up; insanity is everywhere. Cuarón uses his camera to build so much tension by never letting us leave the action it almost distracting at how amazing the shots are. The high points are the final chase at the end through the streets of the immigrant city and the mind blowing scene that unfolds in a car once the party is under attack. The number of elements at play is just shocking and everyone that pulled off the shot from the f/x to the actors deserves huge accolades.
In the end, Cuarón rolled together some great actors; Julianne Moore, Michael Caine, and Chiwetel Ejiofor all deliver great supporting turns, impeccable direction, and fantastic effects work. A film packed to the brim with ideas about society and where we could be heading it is as thought provoking as it is compelling and thrilling. A truly great sci-fi film that stands up with just about any great one out there will only continue to grow in its appreciation over the years and is definitely one of the finest produced and most compelling films of the decade. So if you missed out the first time, and a lot of people did, do yourself a favor and check out Children of Men ASAP!
Previous Entries:
King Kong (2005)