The Decade's Best – The Good Shepherd (2006)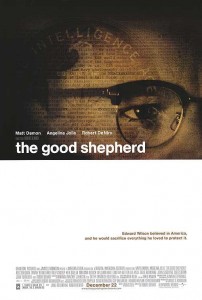 It's almost hard to believe the first decade of this new millennium is almost over, but that just means we get to start debating what were the best films of this young century and why we think so. Over the next six months we will have a series of essays of my reflection and discussion on what made these films great to me and why I would love for you readers to seek them out. So sit back, take a gander, and let me know what you think. Agree, disagree, call me an idiot, but let me know in the comments why you loved it, hated it, or thought these films were just ok. So without further ado lets take a look at the decade's best…
Robert DeNiro's – The Good Shepherd (2006)
Robert DeNiro had a long gestating dream project about the origins of the C.I.A. Sitting on it for ten years he was finally able to bring it to fruition in 2006. Taking on a pacing and tone of its title character Edward Wilson, a collected, cold, calculated, subtle, and methodical man that helps give birth to secret the intelligence game as an agency in the United States, the Good Shepherd moves along deliberately but is full of intrigue and an epic story.
Edward Wilson isn't the most socially outgoing individual, but smart as a whip and thorough in everything he does he was a logical recruit for the intelligence game, after graduating from Yale, in WWII. A Skull and Bones secret society member, he gets one of his society brother's sister pregnant in a one night stand and ends up in a family he didn't ask for while betraying the woman he loved right before heading off to Europe. After his work there, the General that recruited him pins him to an upper position at the newly formed CIA and in the fight against communism in the Cold War. Along his path, Edward becomes entwined with a Russian operative, Ulysses, and their paths cross through the years over important intelligence issues between the two rival countries. Intrigue also arises among British intelligence agents, apparent Nazi sympathizers, and among his own colleagues and the F.B.I. as the mantra, "don't trust anyone," never leaves any of our characters minds.
The film cuts back from the failed investigation of the CIA's Bay of Pigs invasion and flashbacks to Edward's path to the CIA. An epic story covering around 60 years of Wilson's life the films journey will always keep you on your toes and guessing who might be gunning for whom. Based off real events and people it makes the film that much more interesting that these origins and series of events occurred in some similar capacity in history and the ground these men were breaking is remarkable. If you are a fan of spy films, international espionage, and elaborate intelligence games there is plenty here for you and while it might not be in your face and action packed scenes it rewards observant viewers with subtle clues and nuances sprinkled throughout for the sharp eyed.
Among all the spy stuff DeNiro also creates a tragic tale of love and family life around the world of Wilson. His doomed love, his forced marriage, his job keeping him from his son; it all plays for rather sad stuff. Wilson's lack of ability to be a great family man is intriguing with how spectacular he can be at his job. Its makes Edward's success that much more tragic even while he paves the way for this countries intelligence programs.
DeNiro not only made a meticulously crafted and intriguing picture but he also assembled a phenomenal cast on top of that. Matt Damon plays Wilson with such restraint and coldness it is one of his most underrated turns. His ability to create such a believable character with Wilson's skills as an agent yet make him so emotionally blocked out from the world is remarkable. He also is fantastic at letting out a small spark when around his love Laura, making him as human and relatable as Wilson can be. Angelina Jolie is also quite good in her turn as Wilson's estranged life and accurately represents the crumbling marriage Wilson and her have. DeNiro brings a bit of a smile to your face in his short role as well, alleviating the seriousness of everything with a bit of humor as the coordinating general who got the CIA off the ground. The rest of the cast is full of amazing character actors and stars from through out the years. William Hurt, Michael Gambon, Lee Pace, John Turturro, Gabriel Macht, Joe Pesci, Timothy Hutton, Billy Crudup, and Alec Baldwin. To try and list all their work is a bit much, but Turturro is a stand out, as is Baldwin and Crudup, with Pace holding his own against the likes of Damon.
In the end, The Good Shepherd is an epic and intricate look into the origins of the CIA. The tone and pacing of the film isn't the most inviting but if you can get into it it's constantly a rewarding experience. Full of great performances, twists and turns, and it's all grounded by the fact the story is based upon the true origins of the agency. An engaging and wonderful spy film that is light on action but makes up for it in intrigue, The Good Shepherd is about as good as a spy movie can get with its feet firmly planted in reality by giving an accurate representation of what the life of a spy was truly like.
Previous Entries:
Children of Men (2006)
King Kong (2005)