Restaurant Review – Froyo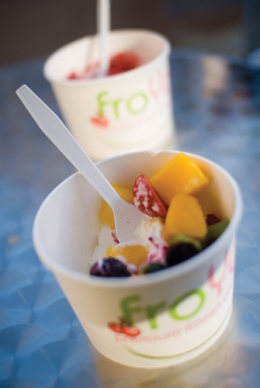 Froyo is a colorful little Frozen Yogurt spot (hence, Fro and yo) located in the heart of the Loop. While walking through U-City, I was just doing some window shopping and enjoying a Friday off of work. I passed Froyo once and thought, I'm definitely going to need a frozen yogurt fix before I leave. So, my last stop of the day led me into the colorful yogurt shop. At first, I was a bit confused. The register was right in front of me, but people were starting further away and creating their frozen concoctions. Luckily, the signs told me what to do.
1. Choose your yogurt. 2. Choose your toppings. 3. Pay per ounce.
So, I was sharing a yogurt with Steve and we did half Mango Tart (for me) and half Wild Berry Tart (for him). Then, we were able to choose our toppings. After a big lunch at the Oceano Bistro, we were a bit boring and just went with blackberries, and then added some kiwi to the mix. But, the topping choices were unlimited! There were chunks of cookie dough, sour gummies, fruity pebbles cereal, bananas, chocolate, caramel and more!
Who knew frozen yogurt was so amazing! My frozen yogurt experiences ranged from the plain vanilla variety to…well that's really it. Not only was the yogurt smooth, creamy and delicious, but the decor inside Froyo was just as fun as the toppings in your yogurt! There were hip round chairs that sat low to the ground in bright lime and orange colors. Overall, Froyo is a fun place to grab a sweet treat, especially on a hot summer day in St. Louis. And being in the middle of the U City Loop, you can window shop along the strip while noshing on your Froyo! My only complaint, we need more of these in St. Louis!