Restaurant Review – Oceano Bistro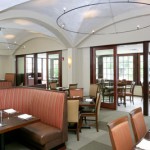 Spending a work free viagra canadian pharmacy Friday running errands led me to downtown Clayton, and unveiled "Saint Louis's premiere fresh fish bistro." Okay I was secretly on the prowl for an unsuspecting local establishment, and this might have been the first article writers needed one I saw.
Fortunately I was far from let down, and got to enjoy a delicious lunch packed with flavor.
So what did I try? The Tuna Burger: Chopped Hawaiian tuna, seared and topped with a romaine, cabbage, raddish, avocado slaw and finished with wasabi aioli on a toasted brioche bun. Let's be honest, they lost me at brioche: which turned out to be a soft rich bread that complemented the texture of the rest of the burger. The fish was served medium rare, the slaw added a satisfying crunch, and the wasabi aioli gave it all a healthy kick of flavor that made me ignore my french fries all together (don't worry, I came back for them later).
The experience at Oceano Bistro was top notch. Their open air patio let us enjoy the wonderful weather of the day, while still keeping the atmosphere private with individual booths. Servers here left nothing to be desired, providing polite prompt service, and never letting my glass go empty. My only let down is that I couldn't bring myself to sample a cocktail from their expansive bar, since my head was still a little fuzzy from the night before. Something I'll have to return for once my liver has forgiven me.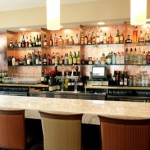 The Oceano Bistro is a highly recommended stop for a great lunch, or a promising beginning to a night on the town.
You can check out their location, menu, and pricing at their website listed below.