Atari Asteroids to be made into feature length film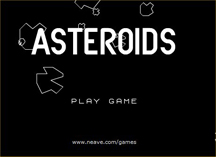 It's official – Universal now owns the rights to the "old school" Atari videogame "Asteroids." The game, released in 1979, is widely known as a classic around US households everywhere. In the videogame, the player takes control of a spaceship that has nothing better to do than to basically blow up Asteroids. Why wouldn't that make an amazing movie? Right? Anyone?
Matt Lope, who has written on such projects as "Race to Witch Mountain," and "Bedtime Stories," is working on the space-aged script. It will be interesting to find out what the premise of the movie is, and who will be casted to play a role in the upcoming film.