The Decade's Best – Crouching Tiger, Hidden Dragon (2000)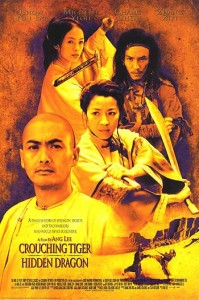 On the surface, Lee's film is a martial arts movie with elaborate set pieces, beautiful choreography, and noble heroes. But under that surface making the film what it is are layers upon layers of sub plots and stories that create wonderful characters and an intimate story that is tragic and heartbreaking.
Li Mu Bai is a master of the martial art Wudan and after having an epiphany during his meditation decides to hang it up and retire from his life of martial arts and defense. Turning his legendary sword, The Green Destiny, to an old friend and state official, Sir Te, it will leave his ownership without avenging his master's death ten years prior to the villainous Jade Fox. Upon delivering the sword to Sir Te, it is quickly stolen under the watchful eye of Yu Shu Lien, the rumor of the return of Jade Fox begins to spread through Peking, and the crime raises an eye to the Governor's house hold whose daughter, Jen Yu, has taken a special interest in Yu Shu Lien and The Green Destiny. Upon Li Mu Bai's arrival to Peking to see Yu Shu Lien he discovers the loss of his sword and discovers the surfacing of his master's killer and decides to stay his retirement to reclaim his sword and avenge his master's death.
This is the simplest way to line out the plot for you, but over the course of the runtime where this portion of the plot unfolds, I haven't even touched on a number of intriguing sub-plots that arise, nor the two fantastic fights that unfold as well. The theme that becomes quickly clear and only grows over the film is the theme of love between people. Yes there are a number of awesome action scenes and fights in the film, but at its heart it is a story about love and the things that keep us from it in our lives. Li Mu Bai and Yu Shu Lien have had a bond for years and from the moment that we first see them together in this film you can tell more is there between the two, but neither one of them is able to show one another. Same goes for Jen Yu who is being forced into love through an arranged marriage where her heart lies somewhere else. This theme is countered with the idea of being free and living life to its fullest and offering point/counterpoint throughout as characters struggle with the paths they have chosen and will choose.
The film also serves as a detective story of sorts over the course of the first act with a number of players lurking in the shadows; for good and bad. As the plot around the theft of The Green Destiny and The Jade Fox unfolds things get a bit dense with a father and daughter tacking down Jade Fox, the palace's main guard Bo investigating the theft, and Li and Yu going about their methods to get to the bottom of the mess. All of this provides for a nice mix of mystery and intrigue as details are revealed about our characters which ultimately set up the second half of the film which is more a tale of self discovery for Jen Yu who must come to grips with her past as she moves forward. Lee does a fantastic job of balancing all of these story elements and styles into a wonderfully cohesive and engaging story that will not let you go.
The film's fight scenes are also some of the best you will find in film and are beautifully photographed by Lee and his team. The fights are also epic and unreal as the fighters glide through the air over rooftops and bamboo, duel with an array of weapons, and many times involve a host of participants. You never get lost in the action and it is not shot in that zoomed in nature that many modern directors deem good action photography. The film is also an excellent showcase for women as heroes and action stars as either Jen or Yu is involved in every single fight and they do not fail to impress.
The actors in the film are also quite wonderful, starting with Chow Yun-Fat as Li Mu Bai. Calm, wise, and intimidating, even with a smile, Fat's portrayal of Li is so strong and with such presence we just know he is not one to be messed with. Fat is perfectly paired with Michelle Yeoh as Yu Shu Lien and the two project their sadness and longing for each other and their history right under their skin with beautiful subtlety. Yeoh also shines in the action scenes bringing an intensity and skill that catches you off guard. She also nails the dramatic beats especially in the heart wrenching finale. Zhang Ziyi stars as the young Jen Yu and not only handles the fighting but carries herself wonderfully as the cocky, bratty, and conceited Jen and appropriately reacts when that attitude gets her into trouble. Chen Chang plays a bandit that is apart of Jen's past and he brings a bit of fun and charisma to the proceedings while successfully conveying his heartfelt emotions when he has to. Lastly, Pei-Pei Cheng is appropriately nasty and evil as Jade Fox and wickedly takes advantage of her limited screen time.
Crouching Tiger, Hidden Dragon is one of the most successful foreign language films on American shores and rightfully so. It is a masterfully crafted piece of cinema by Ang Lee and has a beautiful story to boot. Providing visceral thrills, thought provoking subject matter, and great storytelling you can't help but get wrapped up in the picture. Beautifully shot and put together there isn't a wasted frame and when its all said and done you will not be able to shake the experience for some time as it is one of the finer films you are sure to come by.
Previous Films in "The Decade's Best":