Brand New Set of "Kick-Ass" Posters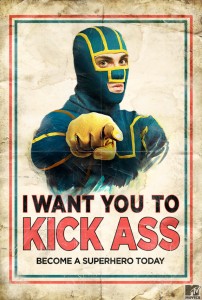 With only a little more than a month to go until the wide release of Kick-Ass, the people behind it seem to be continuing their marketing onslaught to the internet.  It seems they give us something new to drool over every week. With the amount of clever marketing they are doing, I'll be surprised if this isn't the smash hit of the spring. You know that comic book geeks like me will come out in droves, and they are going to pester every single one of their friends to go see it as well.
Check out some of the other Kick-Ass material on the site as well.
Kick-Ass Red Band Trailer
Kick-Ass International Red Band Trailer
Kick-Ass Green Band Trailer
Kick-Ass "Hit Girl" Red Band Trailer
New Posters (Click to Enlarge):
Source: MTV