Repo Men HD Red Band Trailer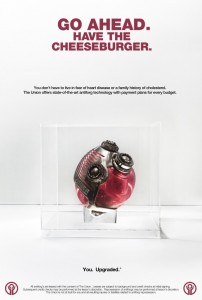 When this film was first announced, I can't say I was thrilled. It seemed to have some unlikely stars for a dystopian future where people pay for organs. Although, this red band trailer gives me a bit of hope. The film appears to have some really cool looking action sequences, and the story itself is intriguing. It may seem pretty far fetched, but these days I'm not willing to discount anything when it comes to greed.  Jude Law looks like much more of a bad ass than any role I've ever seen him in previously. It looks like he might have even bulked up for the role a bit. I'm always down for a little far fetched, but fun sci-fi. Let's just hope the message isn't to heavy handed.
Synopsis:
Humans have extended and improved our lives through highly sophisticated and expensive mechanical organs created by a company called The Union. The dark side of these medical breakthroughs is that if you don't pay your bill, The Union sends its highly skilled repo men to take back its property… with no concern for your comfort or survival. Remy is one of the best organ repo men in the business. But when he suffers a cardiac failure on the job, he awakens to find himself fitted with the company's top-of-the-line heart-replacement… as well as a hefty debt. But a side effect of the procedure is that his heart's no longer in the job. When he can't make the payments, The Union sends its toughest enforcer, Remy's former partner Jake, to track him down. Now that the hunter has become the hunted, Remy joins Beth, another debtor who teaches him how to vanish from the system. And as he and Jake embark on a chase across a landscape populated by maniacal friends and foes, one man will become a reluctant champion for thousands on the run.
Starring: Jude Law, Forrest Whittaker, Alice Braga, Liev Schreiber
Directed by: Miguel Sapochnik