Feature Trailer for Ridley Scott's and Russell Crowe's "Robin Hood"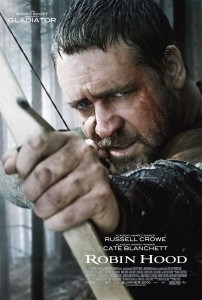 The full trailer for Robin Hood is finally here. After a teaser trailer and a Superbowl spot (Watch the original trailer here). This new trailer shows us a little better the direction Scott is taking the series. It should be wholly different than the 1991 Kevin Kostner flick, Robin Hood: Prince of Thieves.  That film tried to look like a traditional telling of Robin Hood, but with its miss matched character accents, and over the top sets looks like kind of a joke these days.  Scott looks to be trying to go towards a grittier take on the legend.  Much like the Arthurian legends, while based some what in truth, much of what happened was not even close to what is portrayed in films currently. I don't know if this will help or harm the film. On one hand you have an established actor and director who has a string of hits together, but on the other hand you have a popular legend that people might not get if they switch up too many details.
Synopsis:
Expert archer Robin Hood leads a band of marauders to confront corruption and lead an uprising against the English crown. In an effort to save the village of Nottingham and win the hand of the spirited widow Lady Marion, this hero rises from humble beginnings to become an eternal symbol of freedom for his people.
Cast: Russell Crowe, Cate Blanchett, Mark Strong
Director: Ridley Scott
Genres: Costume Adventure, Adventure
Release Date: May 14, 2010