Robin Hood HD Trailer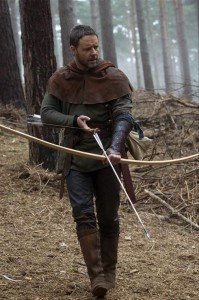 Gladiator 2 or Prince of Thieves 2? I don't really care which it is more like, as long as we don't get another hit Bryan Adams song from it. The trailer is pretty vague on the route it is taking our merry hero. One this is for sure with all the heavy metal guitars laid over it, expect a darker, broodier Robin Hood.  I'm not really sure how I feel about Russell Crowe playing Robin Hood, but it does beat some of the versions we've seen lately. (Could you have at least pretended to have an English accent Costner?)  Most likely we will get a more in depth trailer a couple months before the movie drops.
Synopsis:
Expert archer Robin Hood leads a band of marauders to confront corruption and lead an uprising against the English crown. In an effort to save the village of Nottingham and win the hand of the spirited widow Lady Marion, this hero rises from humble beginnings to become an eternal symbol of freedom for his people.
Cast: Russell Crowe, Cate Blanchett, Mark Strong
Director: Ridley Scott
Genres: Costume Adventure, Adventure
Release Date: May 14, 2010