New KICK-ASS Red Band Trailer, Featuring Hit Girl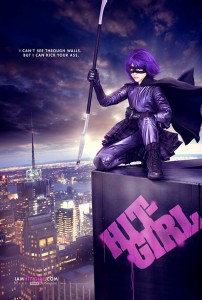 I can't even describe how awesome this movie looks. Most likely it will offend probably half of the population, but I don't care. It looks just as messed up as it's source material. In fact it is looking so good that I don't even care that Nicolas Cage is in it. Trust me folks, that is a big step for me.  The first step on the path to enlightenment? Accepting that you cannot change Nicolas Cage. I'm pretty sure I read that some where. Although, there is a pretty good chance that I just made it up.
Synopsis:
Kick-Ass tells the story of average teenager Dave Lizewski (Aaron Johnson), a comic-book fanboy who decides to take his obsession as inspiration to become a real-life superhero. As any good superhero would, he chooses a new name — Kick-Ass — assembles a suit and mask to wear, and gets to work fighting crime. There's only one problem standing in his way: Kick-Ass has absolutely no superpowers.
His life is forever changed as he inspires a subculture of copy cats, is hunted by assorted violent and unpleasant characters, and meets up with the costumed adventurer Red Mist (Christopher Mintz-Plasse) and a pair of crazed vigilantes, including an 11-year-old sword-wielding dynamo, Hit Girl (Chloë Moretz) and her father, Big Daddy (Nicolas Cage).
Cast: Aaron Johnson, Nicolas Cage, Chloe Moretz, Christopher Mintz-Plasse, Mark Strong
Director: Matthew Vaughn
Genres: Action
Release Date: April 4, 2010