'Knight and Day' Trailer starring Tom Cruise and Cameron Diaz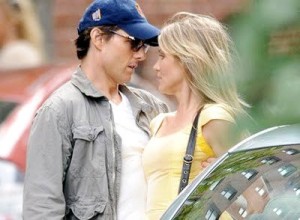 Tom Cruise appears to be back on the right track. After his crazy couch jumping and Scientology antics, he dropped quickly off the list of beloved stars. It seems he has wised up a bit, and has started taking roles to endear himself back to the public. He started this by his role in Tropic Thunder, and now it seems he is continuing his quirk with a role in Knight and Day the role seems to be a mix between his superstar action roles and comedic roles he plays once in a blue moon. The trailer looks really good, and considering I'm not a big fan of either of the leads that is a really good thing.
Synopsis:
A wholesome, Midwestern woman accidentally gets involved with an international super spy and is forced to flee the country with him while he protects a dangerous new piece of technology.
Cast: Tom Cruise, Cameron Diaz, Peter Sarsgaard, Viola Davis, Paul Dano
Director: James Mangold
Genres: Action Comedy, Action
Release Date: July 2, 2010