Another New "Kick-Ass" Red Band Trailer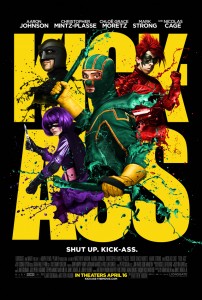 It really seems like they are releasing a new one of these ever week. Which I am totally fine by. The more I see of this the more I want to see it. I'm just a little concerned that the comic series I started reading a couple years ago won't even be caught up to where the film is by the time it is released. After watching this trailer I know for sure that this is a film that will offend a lot of people's sensibilities.  It isn't a superhero film based on a moral superhero, but people with some messed up issues.  SXSW is coming up right around the corner, and Kick-Ass will be shown there, which means we should get even more reviews of the film soon. All the word of mouth I am hearing is that it is awesome. Well only about two more months.
Synopsis:
A twisted, funny, high-octane adventure, director Matthew Vaughn brings KICK-ASS to the big screen. KICK-ASS tells the story of average teenager Dave Lizewski (Aaron Johnson), a comic-book fanboy who decides to take his obsession as inspiration to become a real-life superhero. As any good superhero would, he chooses a new name — Kick-Ass — assembles a suit and mask to wear, and gets to work fighting crime. There's only one problem standing in his way: Kick-Ass has absolutely no superpowers. His life is forever changed as he inspires a subculture of copy cats, meets up with a pair of crazed vigilantes — including an 11-year-old sword-wielding dynamo, Hit Girl (Chloë Moretz) and her father, Big Daddy (Nicolas Cage) — and forges a friendship with another fledgling superhero, Red Mist (Christopher Mintz-Plasse). But thanks to the scheming of a local mob boss Frank D'Amico (Mark Strong), that new alliance will be put to the test.
Cast: Aaron Johnson, Nicolas Cage, Chloe Moretz, Christopher Mintz-Plasse, Mark Strong
Director: Matthew Vaughn
Genres: Action
Release Date: April 16, 2010