"Wall Street: Money Never Sleeps" International HD Trailer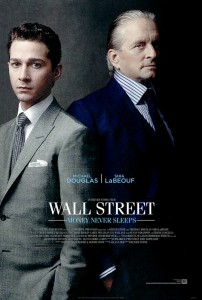 If only they had released this trailer first, instead of the wretched teaser trailer the released a couple weeks ago. This trailer lays the plot on us much more thickly, and it seems much more intriguing now than before. I'm pretty some of the decision making of some of the characters will end up frustrating me heavily, but as long as I am entertained in the end it will be a job well done. I'm intrigued to know if Shia has the star power to draw people into a sequel of a 20 year old film? No doubt his rise to the top was meteoric, but was that due to being attached to high profile projects like Transformers? Only time will tell. I know one thing for sure. I'm going to have to bust out my copy of Wall Street and watch it again before this comes out.
Synopsis:
Back in action again following a long prison term, Gordon Gekko (Michael Douglas) finds himself on the outside looking in at a world he once commanded. Ostensibly hoping to repair his broken relationship with his daughter, Gekko forges an alliance with her fiance, Jacob (Shia LaBeouf) . Though Jacob comes to view Gekko as a father figure, he learns the hard way that Gekko is still a master manipulator who will stop at nothing to achieve his goals.
Cast: Michael Douglas, Shia LaBeouf, Frank Langella, Susan Sarandon
Director: Oliver Stone
Genres: Drama
Release Date: April 23, 2010