Alternate Versions of Oz, In Honor of Disney's 'Oz The Great And Powerful'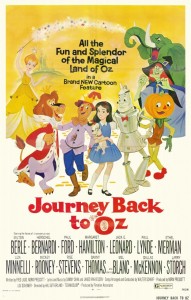 This is an interesting, if largely forgotten, curiosity. What we have here is an honest-to-goodness sequel to the classic film. It began production in 1964 but remained unfinished for almost a decade due to financial difficulties. The story follows Dorothy as she gets caught up in a yet another tornado, um excuse me…twister…and is whisked back to Oz.
Well, it is called "Journey Back to Oz". What did you think was going to happen?
But it features an all-star cast including Paul Lynde as Pumpkinhead, Ethel Merman as Mombi, Mickey Rooney as the Scarecrow, Danny Thomas as the Tin Man and Milton Berle as the Cowardly Lion. And, in what would have been her professional debut had the film not sat on the shelf, Liza Minnelli (daughter of Judy Garland) as Dorothy.
The film brings back all of the things you'd want from an Oz sequel with the exception of one thing – The Wizard. But they fixed that when the film aired on television by having "The Wizard" appear in host segments introducing the film and interacting with children. Their Wizard was played by Bill Cosby who gives a performance that can delicately be described as, um…"shit-faced".
Seriously, watch that clip. I love me some Cos but if this guy was any drunker he'd be legally declared a beverage.