HTC Makes Smartphone Shopping Easy: Buy a One X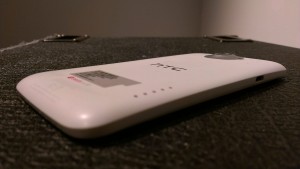 For the year 2012, shopping for smartphones is pretty easy. Specifically, shopping for an Android smartphone is incredibly easy this year.
For Apple's iPhone, it's been simple: buy the newest one. It's always at the $200 price point, has the latest version of iOS, and will last you the entire two-year cellular contract. You can count on Apple releasing just one new iPhone model a year, so you can either pay to upgrade early half-way through or grab the freshest model at the end of your contract.
Android phone shoppers have had a much harder time shopping. It seems like a new Android phone comes out every other week that's better and more equipped than the previous model. Take Samsung's Galaxy S II line: AT&T's original 4.3″ GSII arrived Oct 2nd 2011, only to be replaced by a 4.52″ 4G LTE equipped model 35 days later. Just 1 month into your 24 month contract, and your phone is obsolete?! Taking a look at HTC, they released 22 Android phones in 2011. That's almost 2 every month. If you bought their latest and greatest handset, you had about 2 weeks of enjoyment before they made something better. Fudge!
This year, Android OEM's (Original Equipment Manufacturer) like Samsung and HTC have decided to simmer down a little bit. As of the end of July, HTC have only released 6 phones this year, with half of those being variations of the One X model. This refocusing has forced them to consolidate all their efforts into making just one great phone, similar to Apple's strategy.
Funnily enough, HTC's "One" series of phones is made up of three devices (X, S, and V). Still, it's a step in the right direction: the HTC One X is one of the best smartphones ever made. It's sleek, thin, has a gorgeous screen, amazing camera, great specs, and fast data speeds. It's easily worth the original $199 launch price, but AT&T has sweetened the deal by dropping it to just $99 for a limited time in a Back-to-School promotion. This price drop is definitely a move to compete with Samsung's current flagship, the Galaxy S III, which saw Samsung borrowing from Apple's playbook (yet again) by focusing down to one high-end handset for the year. The GSIII is currently $199 from AT&T with new 2-year commitment.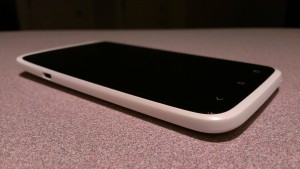 Specifically we'll be taking a look at the HTC One X in this article, but I do recommend everyone try out phones in person. It's going to be you using the phone. In the end, it all comes down to preference. My credibility as a reviewer hangs on whether or not you use this article to successfully make a purchase that you are happy with, whether it's the device in the article or a competing one. Seeing as 4 out of 5 Android devices in my home are made by HTC, you might consider me somewhat of a fanboy. However, I have recommended plenty of non-HTC devices to family, friends, and friends of friends over the past couple years.
For some people, the iPhone just works. The iPad is the king of full-featured tablets. The Samsung Galaxy S III is one of the best Android phones ever made along with the HTC One X. For UberGoogleFanboys, you just can't beat a Nexus.
Enough about you, what's 4G LTE?
If you caught my reviews on the LG Nitro HD and the Samsung Galaxy S II Skyrocket, you'll notice I was unable to test AT&T's 4G LTE network here in St. Louis. Since then, AT&T has officially flipped the switch here in the Lou! I tested it with the HTC One X and I got three words for you: Oh. My. Goodness.

While Verizon was the first to unleash an LTE network here in the States, they haven't been all that reliable. In fact, as I type this, the Midwest is seeing a data outage for both 3G and 4G LTE. AT&T is playing catch-up, having only around 51 markets covered to Verizon's over 300 cities, but so far things have been going pretty well for them.
The biggest concern for us here in St. Louis is this: how are things in St. Louis? Better than everywhere else. And 4G LTE coverage is pretty amazing around the region. I took it upon myself to drive to a few corners of the Metro St. Louis area to see just how far this new technology could reach. What you see in the graph below is a map of my Speedtest.net results.
For comparison, the fastest DSL internet connection you can get from AT&T Uverse right now in St. Louis is 24 Mbps down and 3 Mbps upload. My cable internet from Charter right now is a 30 Mbps download and 3 Mbps upload connection. My Sprint phone averages 2 Mbps download and 1 Mbps upload using 3G. On 4G, the fastest I've ever pulled on my 4G Sprint phone was 12 Mbps. Needless to say, I will be signing back up with AT&T.
LTE is the future. Both Verizon and AT&T have it. Sprint has ditched 4G WiMax and brought 4G LTE to 15 cities. Even T-Mobile has succumbed and announced they will be getting 4G LTE sometime in 2013.
Enough about 4G LTE, what about the phone?
Setting up the HTC One X is simple thanks to AT&T's "Ready2Go" feature. Every Android phone prompts you to setup your phone when you first turn it on, but AT&T has added a web browser frontend that lets you customize and setup your phone from your desktop or laptop computer. So if you're just not ready to dive into typing all your usernames and passwords using the touchscreen, you can hop onto a full-size keyboard and get everything squared away.
Watch the video review below:

For the complete User Manual for the One X: click here to download the .PDF
To be honest, there are only two true competitors to this phone: the iPhone 4S and the Samsung Galaxy S III. The iPhone 4S is the latest and greatest from Apple, and for iPhoners you can't get much better. Unless it had access to 4G LTE data speeds. And if it had an NFC chip. And a bigger screen. Hmmm…
To be more realistic, there are only two true competitors to this phone: the iPhone 5 and the Samsung Galaxy S III. Samsung's GSIII is pretty much spec-for-spec the same phone.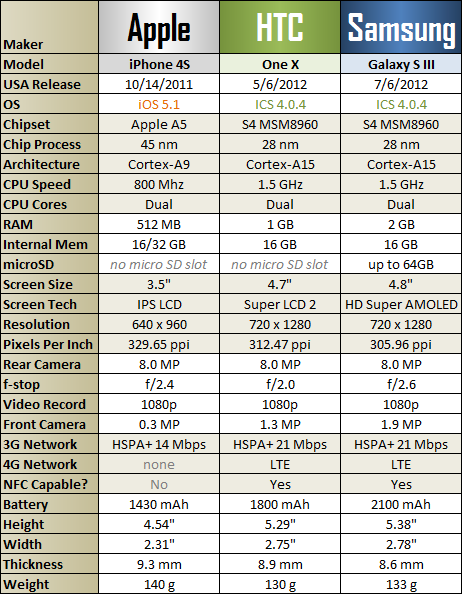 Both the One X and the GSIII have the same processor: a 1.5GHz dual-core Qualcomm S4 Snapdragon on a 28nm chip.
Both phones have access to AT&T's 4G LTE data speeds.
Both phones are equipped with NFC tag technology, allowing you to tap your phone to buy stuff, automate scripts on your phone, or share objects between two devices such as phone contacts or URL's.
The One X features a 4.7″ screen with a 1280×720 resolution. The GSIII features a 4.8″ screen with the same 720p resolution. However, side-by-side most people prefer the One X's Super LCD 2 screen technology over the GSIII's HD Super AMOLED screen.
Both phones have exceptional 8MP cameras, however the One X has an LED flash with 5 levels of brightness as well as a dedicated imaging chip. This imaging chip allows a camera startup time of 0.7 seconds, and can take shots every 0.2 seconds. You can even record 1080p video AND take photos while doing so… a feature the GSIII does without a dedicated chip.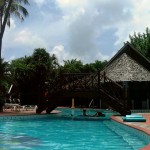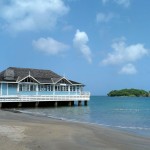 Click on the image above to view photos taken with the HTC One X.
I had the pleasure of having the One X available for both my wedding and honeymoon, so all the snazzy features like HDR and panorama came in quite handy over the past couple of weeks.
A notable difference with the One X is the battery is not removable, and it lacks a slot for a microSD memory card. The GSIII has both a removable battery and microSD card slot. This is a deal breaker for a lot of customers. The GSIII also has 2GB of RAM instead of the 1GB of RAM found in the One X. I didn't notice the One X stumbling too much, so no doubt the extra RAM in the GSIII was to accomodate Samsung's software stack. The immediate difference you'll see between these phones is really just the software side of things. I recommend using the One X in person to see if their Android skin, "Sense", is suitable for you. I happen to be a fan of the features it provides, mainly the iconic weather widget and contacts integration.
As far as I can tell, there are only 4 phones to consider buying right now: the iPhone 4S, HTC One X, Samsung Galaxy S III, and Google's Galaxy Nexus. For the remainder of year, we're only seeing two of those get replaced: new iPhone in September and new Nexus (or five…) in November. For anyone looking for the absolute best experiences in smartphones today, these 6 phones that I've mentioned are the only ones to consider for all of 2012. Out of the lot, only the HTC One X can be had for $99 brand new.
Now if only I didn't listen to rumors and wait to hear about the next big thing.
---
For current events surrounding the One X and AT&T's 4G LTE in the St. Louis area, head on over to Twitter and follow @HTC and @ATT_STL … and add @ReviewStLouis too.
For more information on the HTC One X visit htc.com.