Movie Review: 'The Campaign' Starring Will Ferrell, Zach Galifianakis, Jason Sudeikis, Dylan McDermott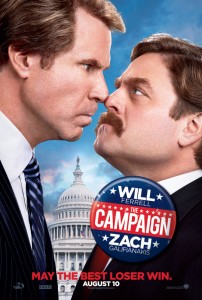 What better time is there to watch a political film than right in the middle of election season? The release of The Campaign couldn't be more relevant, and reminds us just how silly politics can be. Although things get a little far fetched in the movie, it's a great commentary on the subject matter and the chemistry between Will Ferrell and Zach Galifianakis is worth the price of admission alone.
Four term Congressman Cam Brady (Will Ferrell) is a shoe-in to win his fifth election, especially while running unopposed. But when Brady commits a huge publicity faux-pas, big time lobbyists the Motch Brothers (Dan Aykroyd and John Lithgow) decide to back another horse – Marty Huggins (Zach Galifianakis) who knows nothing about politics. Brady and his campaign manager Mitch (Jason Sudeikis) scramble to keep the incumbent congressman ahead in the poles, while the mysterious Tim Wattley (Dylan McDermott) whips Marty and his family into shape for public viewing. The two battle it out in a no-holds-barred fight to election day, while destroying everything they know in the process.
I have been a fan of Will Ferrell for a long time now, ever since his first days on Saturday Night Live. I think the actor is a tremendous talent, and also a comedic genius. Sure, he has hit a few rough patches here and there – but that's what happens when you put yourself out there as much as he does. And the good thing is that he always seems to find his way back. Ever since I saw Zac Galifianakis, I thought that the idea of putting him on-screen with Ferrell would result in nothing short of hilarity. And although I can't say that The Campaign is the funniest movie I have ever seen, I think that the chemistry between the two comedians was fantastic. Ferrell's cocky congressman and Galifianakis' naive and timid opponent pull out all the stops as they progress in the campaign, and make it hard not to smile when they show up together.
One of the biggest surprises in the film was Dylan McDermott as Marty's campaign manager Tim Wattley. The name may sound familiar if you are a fan of Seinfeld – Bryan Cranston played a character named Dr. Tim Whatley (slightly different spelling) who was the "dentist to the stars." It's hard to imagine that the writers weren't paying homage to the character. In either case, McDermott plays a mysterious and downright hilarious character in the film who reminds me of Rip Torn in Dodgeball. Wattley is always serious, and doesn't mess around when it comes to taking Marty from a dim-witted bumpkin to sharp politician in little time. Once part of his staff, Wattley ends up pretty much everywhere – most times unexpectedly – which is part of much of the humor in the role. Jason Sudeikis plays Brady's campaign manager, who definitely has his hands full, but doesn't quite shine as brightly as McDermott in the same capacity.
The film is obviously aimed to poke fun at politics in general, and the politicians who make them so ridiculous. Most of the situations that the two opponents get into are far-fetched and ridiculous, but that is what makes the parody so great. Seeing as we are in an election year, and we are seeing ridiculous campaign ads on TV non-stop, it's amazing how much truth there is in the film. I think writers Chris Henchy and Shawn Harwell did a fantastic job of keeping things fresh and funny, and wrote the perfect roles for the two leads. Although not every joke sticks, they throw a lot at you and it feels pretty close to non-stop laughs. If you are a fan of Ferrell and Galifianakis, it's hard to imagine you won't have a fun time with this one.
The Campaign is a B-