Star Wars Celebration, The Weekend You've Been Looking For (2017 Recap)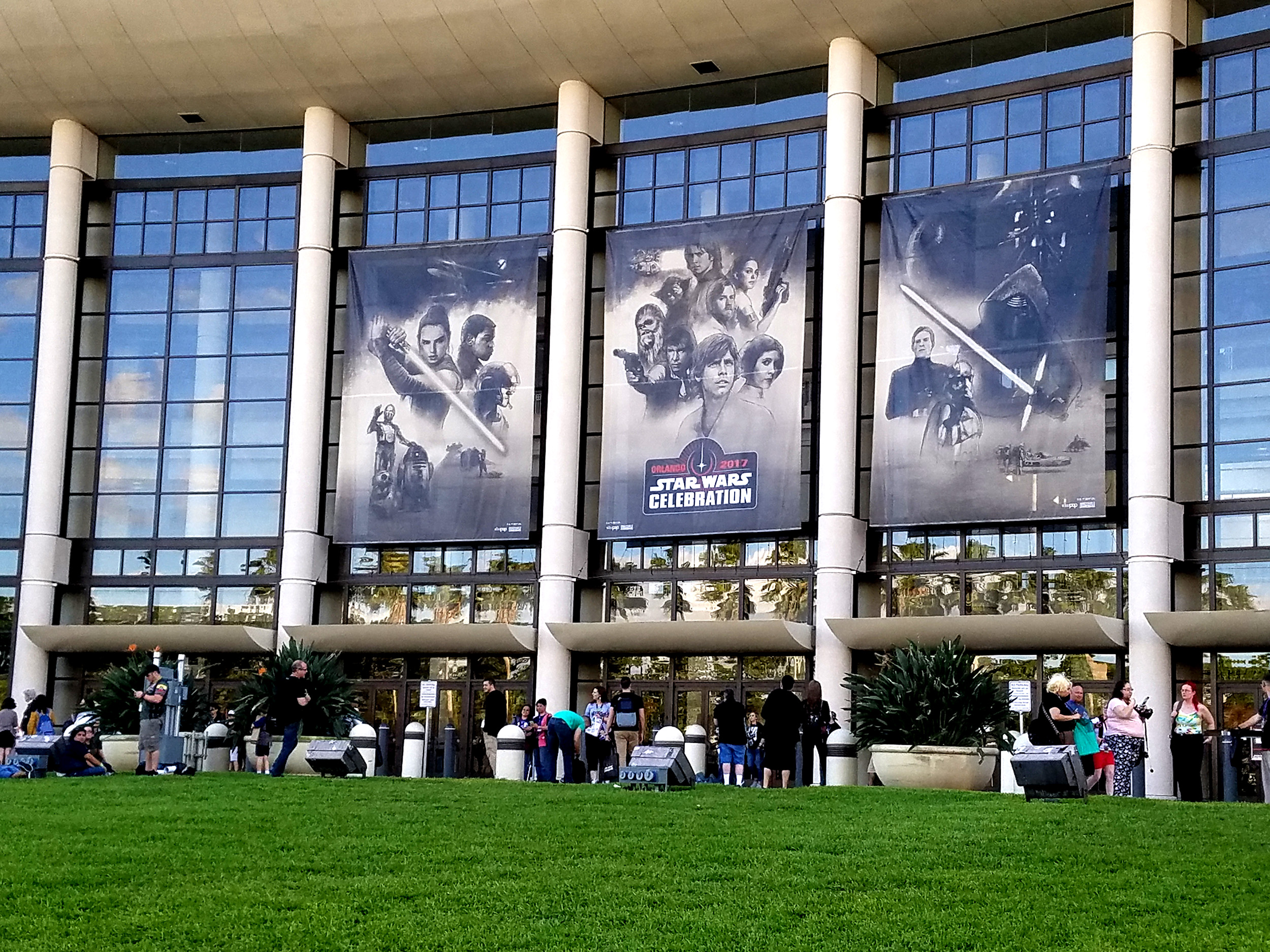 Saturday, April 15
On the third day of Star Wars Celebration (our last), Tim and I entered the exhibit hall in record time. Tim raced over to the Celebration Store and made it through the line in under 90 minutes. This was relatively quick considering I heard horror stories from many people claiming they had to wait for most of the day.
While Tim bought our merchandise, I waited for my photo-op with Mark Hamill. This was not the first time I had a photo taken with a celebrity, so I already knew my time with him would be limited. And when I say limited, I mean restricted to about 12 seconds – a wonderful 12 seconds, mind you. Hamill smiled and was very gracious as I shook his hand and thanked him for being such an inspiration. When you have to endure thousands of fans for hours a day at these conventions, it can get tiring, but Hamill showed no signs of weariness or frustration. It was a pleasant experience I'm glad to say I've had.
Although we missed the panel, the biggest official news of the day revolved around the video game "Star Wars Battlefront II." The previous game was met with mediocre reviews, but it seems EA and DICE might have learned from their mistakes. They unveiled a trailer that showcased characters and planets from throughout the Star Wars timeline (prequels included), as well as a single-player campaign, offline local co-op, and NO SEASON PASS necessary. Consider me interested.
With only a few hours remaining, Tim and I spent the rest of Saturday wandering around and participating in various activities we did not have time to do on the previous days. Most notably, we built a Millennium Falcon minikit in a LEGO assembly line and tried on Oculus Rift goggles for the first time to play "Battle Test: A Nissan Rogue 360° VR Experience." While in line for the latter, I got in a deep conversation about Star Wars with the most intelligent 11-year-old I've ever met, dressed as the villainous Director Krennic from Rogue One. Not only was I astounded by the depth of his knowledge about the characters, but he also proved a very perceptive film critic, preferring the original trilogy over the prequels and The Force Awakens (his least favorite). Clearly there is still hope for the next generation of Star Wars fans.
Joking aside, one can't help but marvel at the scale and scope of Star Wars fandom. At the end of the day, as Tim and I headed toward the exit, we spotted a group of older adults dressed as old Luke, Han, and Leia. Earlier, I had seen a mother "Rey" holding a baby "BB-8." It's difficult to think of another property that has such strong cross-generational appeal. While the cynical may dismiss it as consumerism at its finest, there is no denying the impact Star Wars has had on the lives of so many or the friendships and good will conventions like Celebration can generate. Star Wars is for everyone, and Star Wars will be forever.
For more photos from Star Wars Celebration 2017, click here.