Star Wars Celebration, The Weekend You've Been Looking For (2017 Recap)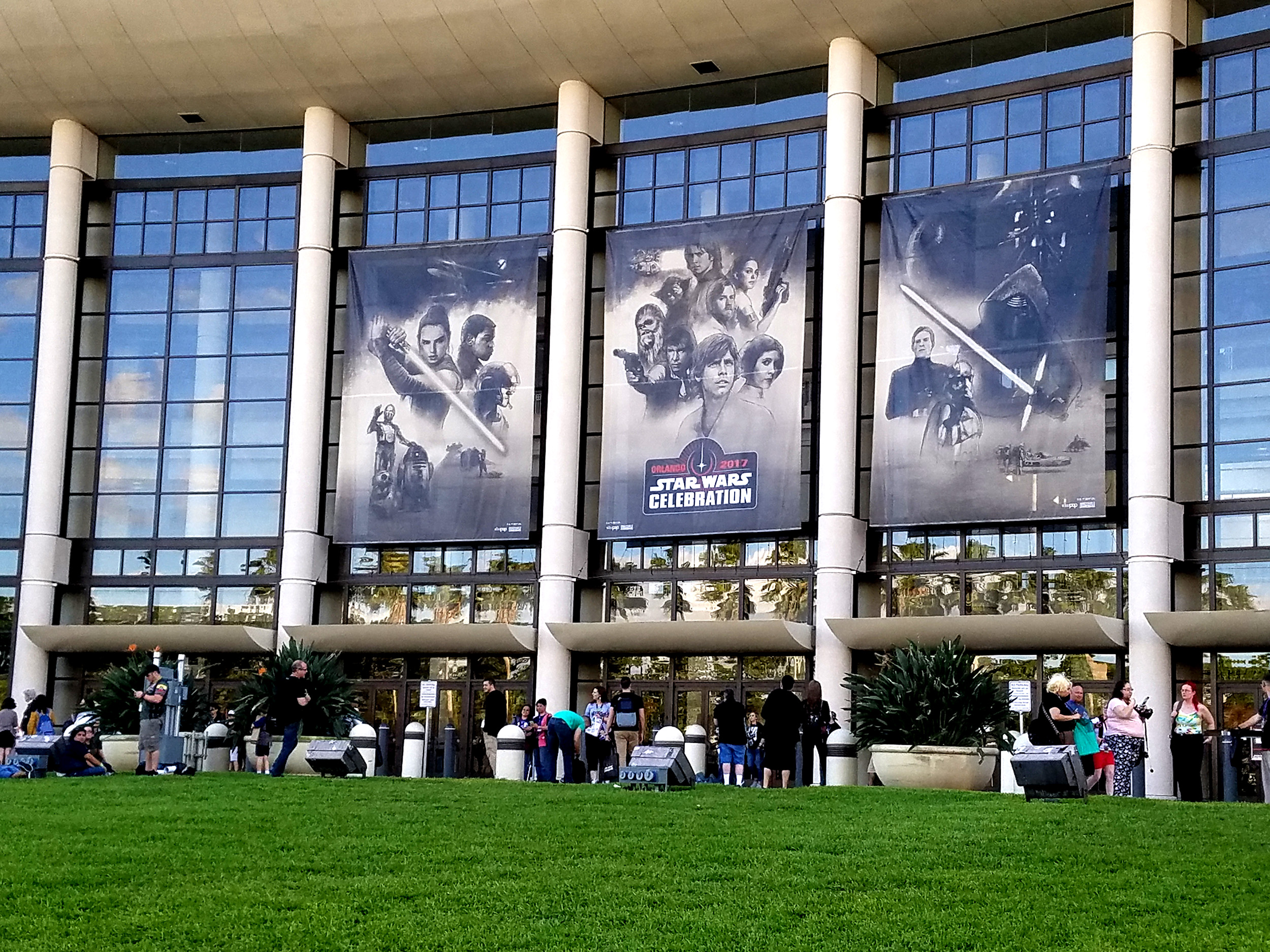 Friday, April 14
The second day of Celebration brought with it the hotly anticipated panel for Episode VIII: The Last Jedi. Thousands of fans waited in line overnight in an ice-cold room with poor internet reception just so they could see this panel (but hey, they got to meet director Rian Johnson, so the wait wasn't that bad!). Tim and I, on the other hand, slept in and went to Jamba Juice. We arrived an hour before the panel began and could still watch it on a big screen in the exhibit hall, albeit with very poor sound.
The panel itself went largely as you might expect. Host Josh Gad (Olaf in Frozen) amused the crowd and interviewed Johnson, as well as Lucasfilm President Kathleen Kennedy, Daisy Ridley (Rey), John Boyega (Finn), newcomer Kelly Marie Tran (Rose), and Mark Hamill (Luke Skywalker). We were also treated to a special appearance from BB-8, who rolled out onto the stage.
The cast was pretty tight-lipped about their characters' roles in The Last Jedi and answered most questions in vague generalities. Ridley gave us the most interesting tidbit, saying that Luke Skywalker is not the character Rey expects him to be. The panel ended with the debut of the movie's poster and trailer, which were met with rapturous applause. Everyone in the exhibit hall roared with approval and then hastily grabbed his or her phone to watch the trailer again on YouTube.
The other panel we saw on Friday was "Designing the LEGO Star Wars Galaxy." Former LEGO Star Wars Senior Art Director and current Brand Manager Rob Johnson took us through the design and development of a single LEGO Star Wars building set (Rey's Speeder) from start to finish, sharing photos from the conceptual, sculpting, prototyping, Lucasfilm approval, production, packaging development, and content development processes. Johnson stressed multiple times that LEGO is super secretive about their work and that we were very lucky to get a glimpse into their operations. We even saw pictures of LEGO's office in Billund, Denmark, which has a slide (!) for employees to descend from floor to floor. As an avid collector of LEGO minifigures, I found this panel incredibly insightful.
Click here to view the full photo gallery.
Next up: Saturday