Sony Pictures Announces Andrew Garfield as the Spectacular Spider-Man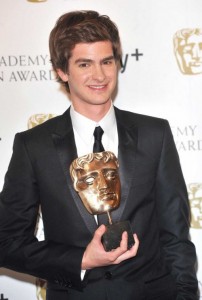 Just yesterday sites all over the internet were abuzz with news that Sony Pictures was close to casting the role of Peter Parker/Spider-man for their upcoming reboot. Well, the internet got half of the news right, Sony was close to casting the role, but not with Josh Hutcherson in the lead role. (Read our story about it here.) Reps from Sony Pictures last night announced that 26-year old British actor Andrew Garfield is being cast in the role.
"Though his name may be new to many, those who know this young actor's work understand his extraordinary talents," said director Marc Webb during the reveal at a special event in Mexico. "He has a rare combination of intelligence, wit, and humanity. Mark my words, you will love Andrew Garfield as Peter Parker."
"I'm incredibly excited about Andrew Garfield," said producer Avi Arad. "In the Spider-Man tradition, we were looking for a smart, sensitive, and cool new Peter Parker who can inspire us and make us laugh, cry, and cheer. We believe we have found the perfect choice to take on this role and lead us into the future."
Like many other actors rumored for the role, Garfield is an up and coming actor who not many may have heard of yet, but definitely has a good future ahead of him on screen. The actor won a BAFTA (Britain's Oscar equivalent) for his role playing an ex-con in John Crowley's Boy A.  He recently appeared as one of the stars in the Imaginarium of Doctor Parnassus, holding his own against the likes of Christopher Plummer and Heath Ledger.
Garfield has two big upcoming movies premiering later this year, the first of which is David Fincher's The Social Network. (Watch the teaser trailer here.) In The Social Network he plays one of Facebook's founders Eduardo Saverin. He also is the male lead in Mark Romanek's Never Let Me Go, starring opposite two high profile British leading ladies, Kiera Knightley and Carey Mulligan.
I have no doubts that Garfield is a talented actor, but I thought they would cast the role much younger. It was surprising casting news, because his name was being thrown around way less than many other actors, but I think he might have been the best choice. He is probably the least recognized name that was put into contention, and it will make Sony's job a lot easier. Audiences will immediately be able to connect with Garfield as Parker right away.
The Spider-man reboot should start filming the end of this year, and will be released July 3, 2012 in 3D.
What do you think of the casting? Glad it is finally announced? Let us know in the comments!