Mel Gibson Makes Racist Comments; Verbally Abuses Oksana Girgorivea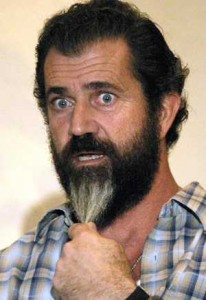 Mel Gibson never seems to learn. He was finally starting to clear his image up as a anti-Semite, and now the world hears he is once again making a fool of himself. This time the evidence comes in recorded messages by Gibson's estranged baby mama, Oksana Grigorivea.
Some of the highlights include:
Mel Gibson told the mother of his love child that the way she was dressed would get her "raped by a pack of n***ers," Radar Online has learned exclusively.
Mel's disgusting words are on audio tape.
Radar has heard the tape, which also includes Mel telling Oksana he will burn down her home.
"You're an embarrassment to me," Mel tells her at one point.
"You look like a f***ing pig in heat, and if you get raped by a pack of n***ers, it will be your fault."
Mel's profane outbursts are littered with references to Oksana being a "whore" and "c**t".
In another tirade, Mel tells Oksana: "How dare you act like such a bitch when I have been so f**king nice."
He warns, "I am going to come and burn the f**king house down… but you will blow me first."

Source: Radar Online
Wow, pretty harsh right? I'm pretty sure we can say goodbye to Mel's career. He might have been able to salvage it after his 2006 arrest when he so famously proclaimed, "F**king Jews … The Jews are responsible for all the wars in the world." This time? I think he might be finished.