David Fincher's "The Social Network" HD Trailer Starring Jesse Eisenberg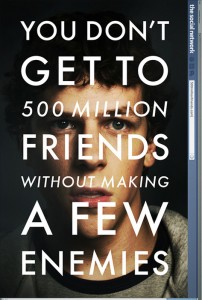 I'm a bit torn here. I absolutely love David Fincher, and I think he is possibly one of the best modern directors around. However, I'm not really that interested in a story about Mark Zuckerberg and Facebook.  I know the story behind it, and it is interesting enough, but I'm not sure it is the type of story I want to see Fincher doing. I also think that Eisenberg is a little to easy to like, to play the arrogant Mark Zuckerberg, but maybe we need a new portrayal of the social networking wonder kid.
Do you think audiences will pay to see the story of Facebook? Let us know in the comments!
Synopsis:
A movie about the founders of the popular social networking site Facebook—CEO Mark Zuckerberg (Jesse Eisenberg); Sean Parker (Justin Timberlake) and Eduardo Saverin (Andrew Garfield).
Cast: Jesse Eisenberg, Justin Timberlake, Andrew Garfield, Rashida Jones
Director: David Fincher
Genres: Biopic [feature], Drama
Release Date: October 1, 2010
[hdplay id=45 width=595 height=375]