"Red" HD Trailer Starring Bruce Willis, Helen Mirren, and Morgan Freeman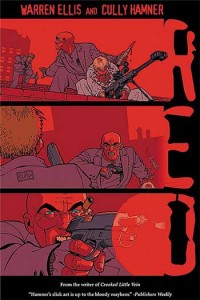 I find it a bit depressing that Bruce Willis is considered old enough now to be considered a senior citizen of the action community. Him along with other veteran actors such as Helen Mirren, Morgan Freeman, John Malkovich and Mary-Louise Parker are all playing aged CIA agents.  The concept which is based upon a graphic novel of the same name seems thoroughly entertaining, but will younger audiences flock to it? The first trailer seems like a marketing miss, it is obviously aimed at a younger crowd, but it doesn't seem like a gimmick that the young movie going public will buy into.  Are we going to have to scratch this as yet another failed comic book adaptation like The Losers?
Synopsis:
Frank, Joe, Marvin, and Victoria used to be the CIA's top agents — but the secrets they know just made them the Agency's top targets. Now framed for assassination, they must use all of their collective cunning, experience and teamwork to stay one step ahead of their deadly pursuers and stay alive. To stop the operation, the team embarks on an impossible, cross-country mission to break into the top-secret CIA headquarters, where they will uncover one of the biggest conspiracies and cover-ups in government history.
Starring: Bruce Willis, Mary-Louise Parker, Morgan Freeman, Helen Mirren and Julian McMahon
Directed by: Robert Schwentke
Release Date: October 15, 2010
[hdplay id=46 width=595 height=375]