"Little Fockers" HD Trailer Starring Ben Stiller and Robert DeNiro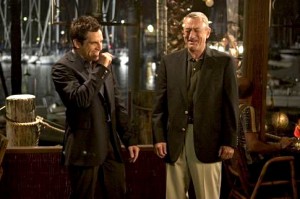 I have to be honest here. I liked Meet the Parents and Meet The Fockers, but unlike a lot of people, I did not love them.  In fact, the first time I saw Meet the Parents, I was baffled why everyone went around quoting lines to each other. I found the film entertaining, but nothing that made me think "instant classic". Which is why I was so surprised that I actually enjoyed this trailer. I guess I'm just getting used to the over the top antics of the series, and I'm looking forward to a good Christmas comedy. The fact that they've added even more solid supporting characters played by people like Harvey Keitel only makes me want to see it more. Call me crazy, but am I getting soft?
My only question is this, Hasn't Greg earned Jack's trust twice already? Does he really need to earn it a third time? I think it is time to find a new plot device. Have them work together a bit better.
Synopsis:
The test of wills between Jack Byrnes and Greg Focker escalates to new heights. It has taken 10 years, two little Fockers with wife Pam and countless hurdles for Greg to finally get "in" with his tightly wound father-in-law, Jack. After the cash-strapped dad takes a job moonlighting for a drug company, however, Jack's suspicions about his favorite male nurse come roaring back. When Greg and Pam's entire clan – including Pam's lovelorn ex, Kevin – descends for the twins' birthday party, Greg must prove to the skeptical Jack that he's fully capable as the man of the house. But with all the misunderstandings, spying and covert missions, will Greg pass Jack's final test and become the family's next patriarch – or will the circle of trust be broken for good?
Directed by: Paul Weitz
Starring: Ben Stiller, Robert DeNiro, Harvey Keitel, Blythe Danner, Teri Polo, Jessica Alba, Owen Wilson, Barbara Streisand, Laura Dern
Release Date: December 22, 2010
[hdplay id=44 width=595 height=375]