Sandra Bullock Best Actress 2010 Oscars "The Blind Side"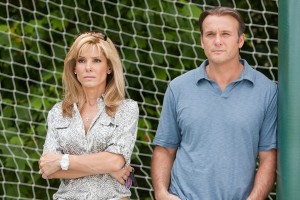 Sandra Bullock has had somewhat of a banner year, two hot releases, and one blemish. Bullock started out her year red hot with her role in the romantic comedy, The Proposal, with Ryan Reynolds.  The actress then followed with the resounding failure, All About Steve, co-starring with rising star Bradley Cooper. Although, Bullock's biggest success of the year came in the form of sports drama, The Blind Side.  The Blind Side is the film based around real life NFL player Michael Oher, and his uplifting story of finding a home after years of strife and homelessness. Bullock plays the maternal Leigh Anne Tuohy, who takes in Oher and treats him as one of the family.
This is Bullock's first Academy Award Nomination.
Read our review of The Blind Side.
Selected Filmography:
The Blind Side (2009)  – Leigh Anne Tuohy
The Proposal (2009) – Margaret Tate
The Lake House (2006) – Kate Forster
Miss Congeniality (2005) – Gracie Hart
Crash (2004) – Jean Cabot
Two Weeks Notice (2002) – Lucy Kelson
Miss Congeniality (2000) – Gracie Hart
Forces of Nature (1999) – Sarah Lewis
Hope Floats (1998) – Birdie Pruitt
A Time To Kill (1996) – Ellen Roark
The Net (1995) – Angela Bennett
Speed (1994) – Annie Porter
Demolition Man (1993)  – Lt. Lenina Huxley
Love Potion No. 9 (1992) – Diane Farrow
Will Sandra Bullock win Best Actress? Let us know to the comments!