Great Week to See a Movie – Watch Something FRESH This Weekend!
Like any movie year, 2009 has had its "ups" and "downs" as far as movies go. We've seen our share of the good and the bad (check out Zac's "09: The Year So Far" Article) and we have looked at the movies that are yet to come (check out Blake's "2009: What To Look Forward To" article). But in taking a look at Rotten Tomatoes, and what movies are currently playing and opening as of today, this weekend is definitely a "fresh" time to see a movie! Take a look at what is out now: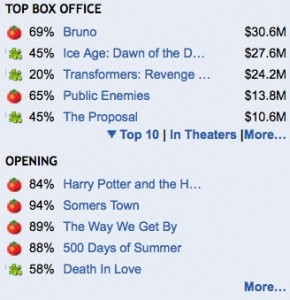 Here is what you NEED to see:
1. HARRY POTTER AND THE HALF-BLOOD PRINCE – 84% Fresh
2. BRUNO – 69% Fresh
3. Public Enemies – 65% Fresh
What Can WAIT:
1. THE PROPOSAL – 45% Fresh
2. ICE AGE: DAWN OF THE DINOSAURS – 45% Fresh
3. TRANSFORMERS – 20% Fresh
Keep in mind, all of the movies above are pretty good; just considering the selection, and how much time there is in a weekend, these are the best choices to make. There are a great variety of GREAT movies out right now, so make sure you get to the theater!