Chris Rock to Make "Will You Be My Black Friend?"
Chris Rock has signed on to be the star of Will You Be My Black Friend?, which could go down as possibly the funniest film title I've ever read. The concept looks interesting, but I'm afraid that in our all to PC culture that someone is going to get offended. I can't help but think of the website Black People Love Us when I read this article though. Chris Rock really needs a hit, his last few have been a bit uninspired. I like the concept of this one though, hopefully we can see a good film from him.
From Variety.com
---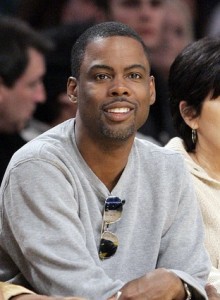 Lionsgate has partnered with Oprah Winfrey's Harpo Films to acquire rights to the November 2008 GQ Magazine article "Will You Be My Black Friend?"
The article, a humorous account by senior correspondent Devin Friedman about his clumsy attempt to make friends with people of color, will be developed as a star vehicle for Chris Rock.
Following a cocktail party epiphany that his entire social circle is the same color as he, the white writer made an unabashed attempt to make black friends, down to soliciting prospective pals in a Craigslist ad. The journo discovers that race aside, it is very difficult to make meaningful friends later in life.
Pic will be produced by Winfrey, her Harpo Films president Kate Forte and senior veep Carla Gardini.
Deal expands the relationship between Lionsgate and Winfrey, who with Tyler Perry is exec producer and co-presenter of the Lee Daniels-directed drama "Precious: Based on the Novel `Push' By Sapphire," which Lionsgate just premiered at the New York Film Festival.
Lionsgate holds worldwide distribution on "Will You Be My Black Friend?"
Rock most recently was exec producer of the comic docu "Good Hair," which will be released Friday by Roadside Attractions (in which Lionsgate owns a minority stake). He's also a producer and star of "Death at a Funeral," the Neil LaBute-directed comedy which Screen Gems releases next spring.
"The cinematic potential of `Will You Be My Black Friend?' jumped out at us immediately," Lionsgate Motion Picture Group president Michael Paseornek said in a statement. "What really makes the piece special is Devin's voice, which is honest, astute and extremely funny. We can't imagine a better actor to help bring this story to life than Chris Rock."
---
The sequel "Cracker please!" has yet to find any buyers, but I have my fingers crossed.