G.I. Joe coming to DVD and Blu-Ray on November 3rd
I know a lot of people are waiting to see this on DVD, because they didn't want to pay the price for admission. Now you can finally watch the summer blockbuster G.I. Joe from the comfort of your own couch. I personally look forward to rewinding all the silly parts, but I'm not sure I have enough time in my day. Well here is the press release for you:
THE NEXT GENERATION OF HEROES STORMS INTO ACTION ON
BLU-RAY AND DVD IN THE WORLDWIDE BLOCKBUSTER
$140+ Million Domestic Smash Debuts November 3, 2009 in Two-Disc Sets Boasting Behind-the-Scenes Featurettes, a Digital Copy and More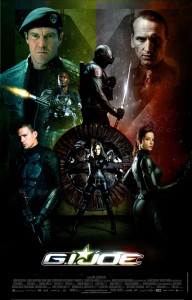 HOLLYWOOD, CALIF. – The ultimate elite fighting force hit the big screen to defend the world and ended up conquering it in the worldwide smash hit G.I. JOE: The Rise of Cobra, which earned over $280 million at the global box office. The action-packed, visually arresting adventure based on Hasbro's immensely popular action figures including DUKE, SNAKE EYES, STORM SHADOW and the BARONESS makes its eagerly-awaited Blu-ray and DVD debut in two-disc sets and a single-disc DVD on November 3, 2009 from Paramount Home Entertainment. Directed by Stephen Sommers (The Mummy), G.I. JOE: The Rise of Cobra stars a hot young cast including Channing Tatum (Public Enemies), Marlon Wayans (Dance Flick), Sienna Miller (Factory Girl), Joseph Gordon-Levitt ((500) Days of Summer), Rachel Nichols ("Alias") and Ray Park (X-Men), as well as veteran actors Dennis Quaid (Vantage Point) and Christopher Eccleston (Gone in Sixty Seconds).
The G.I. JOE team travels the world from the Egyptian desert to the polar ice caps and the streets of Paris in a high stakes pursuit of COBRA, an evil international organization threatening to use a technology that could bring the world to its knees. Armed with the coolest hi-tech gadgets and weapons, including jaw-dropping accelerator and camouflage suits, G.I. JOE is the last line of defense against those intent on world domination.
The G.I. JOE: The Rise of Cobra two-disc Blu-ray and DVD include a digital copy of the film, commentary by director Stephen Sommers and producer Bob Ducsay, "The Big Bang Theory: The Making of G.I. JOE", which takes viewers behind-the-scenes for a look at how the filmmakers turned the perennially popular action figures into a summer blockbuster and "Next-Gen Action: The Amazing Visual FX and Design of G.I. JOE", which showcases the incredible work that went into creating over 1,650 visual effect shots and the challenges the filmmakers faced in bringing the world of G.I. JOE and COBRA to life. The film also will be available on a single disc DVD, which includes the commentary.
The two-disc DVD and Blu-ray packages will also feature augmented reality technology that will allow owners to participate in an exclusive 3D holographic G.I. JOE combat experience, utilizing their webcams and a special website. Fans will be able to choose between SNAKE EYES and STORM SHADOW, two of the most popular G.I. JOE and COBRA characters, and battle against their enemies one-on-one in an immersive 3D video game.
Two-Disc DVD & Blu-ray:
The G.I. JOE: The Rise of Cobra two-disc and single-disc DVDs are presented in widescreen enhanced for 16:9 televisions with Dolby Digital English 5.1 Surround, French 5.1 Surround and Spanish 5.1 Surround with English, French and Spanish subtitles. The two-disc Blu-ray is presented in 1080p High Definition with English 5.1 DTS-HD Master Audio, French 5.1 Dolby Digital and Spanish 5.1 Dolby Digital with English, English SDH, French and Spanish subtitles. The following special features are in standard definition:
Disc 1:
• Feature commentary by director Stephen Sommers and producer Bob Ducsay
Disc 2:
• Digital Copy
• The Big Bang Theory: The Making of G.I. JOE— Join the G.I. JOE team as they set out to "Sommer-size" the summer action epic and bring G.I. JOE to the big screen.
• Next-Gen Action: The Amazing Visual FX and Design of G.I. JOE— With over 1,650 visual effect shots, G.I. JOE was a truly massive endeavor. Showcasing the hard work and creativity of the film's effects and design team, this piece looks at the unique challenges of bringing the world of G.I. JOE and COBRA to life, while immersing viewers in the incredible thrills and various FX challenges of the film's major action sequences.
About Paramount Home Entertainment
Paramount Home Entertainment (PHE) is part of Paramount Pictures Corporation (PPC), a global producer and distributor of filmed entertainment. PPC is a unit of Viacom (NYSE: VIA, VIA.B), a leading content company with prominent and respected film, television and digital entertainment brands. PHE is responsible for the sales, marketing and distribution of home entertainment products on behalf of various parties including: Paramount Pictures, Paramount Vantage, Paramount Classics, Paramount Famous Productions, Nickelodeon, MTV, Comedy Central, CBS and PBS and for providing home entertainment fulfillment services for DreamWorks Animation Home Entertainment.
About Hasbro
Hasbro, Inc. (NYSE:HAS) is a worldwide leader in children's and family leisure time products and services with a rich portfolio of brands and entertainment properties that provides some of the highest quality and most recognizable play and recreational experiences in the world. As a brand-driven, consumer-focused global company, Hasbro brings to market a range of toys, games and licensed products, from traditional to high-tech and digital, under such powerful brand names as TRANSFORMERS, PLAYSKOOL, TONKA, MILTON BRADLEY, PARKER BROTHERS, CRANIUM and WIZARDS OF THE COAST. Come see how we inspire play through our brands at
. (C) 2009 Hasbro, Inc. All Rights Reserved.
G.I. JOE: The Rise of Cobra
Street date: November 3, 2009
Runtime: 117 minutes
Pricing: $19.99 (Single-disc DVD)
$24.99 (Two-disc DVD)
$29.99 (Two-disc Blu-ray)
U.S. Rating: PG-13 for strong sequences of action violence and mayhem throughout
Canadian Rating: 14A for violence