Broken Lizard's The Slammin Salmon HD Trailer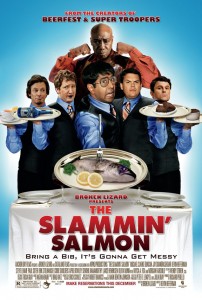 I'm beginning to wonder if Broken Lizard will ever be able to top Supertroopers. The closest they have came so far is Beerfest, which was funny, but didn't stick with you quite as long as Super Troopers. Since then the troupe has done such films as Club Dread (awful), The Dukes of Hazzard (yes, they are responsible for that piece of crap), and now Slammin' Salmon. The trailer seems to suggest that the guys have moved further away from genuine comedy, to more slap stick style comedy (prat falls and all it seems). Although, to be honest I'm not sure if their funniest bits can ever be displayed on a trailer. I'm willing to give them another chance, just as long as the promise to at least try to put out some good comedy films soon.
Synopsis:
In the latest comedy from Broken Lizard, (the creators of Supertroopers and Beerfest) "Slammin" Cleon Salmon (Michael Clarke Duncan) is a former Heavyweight Champion of the World turned celebrity owner of a high end Miami seafood restaurant, The Slammin' Salmon. A terrifying bull of a man, Salmon uses fear to rule over his misfit waitstaff (Broken Lizard's Jay Chandrasekhar, Kevin Heffernan, Steve Lemme, Paul Soter, Erik Stolhanske, as well as Cobie Smulders and April Bowlby) and on this particular night, he takes his bullying skills to a new level. In an effort to pay off a gambling debt to the Japanese Yakuza, Salmon sets up a contest to 'inspire' his waitstaff to sell more food than they ever have before: the top selling server wins $10,000 while the waiter in last place gets served with a broken rib sandwich—courtesy of the Champ himself. Spurred on by greed and panic, the staff resort to backstabbing, bribery and indecent proposals in an attempt to upsell their patrons while simultaneously sabotaging their co-workers. As the hours pass, the dining room action becomes more frenzied as the contest escalates into a brawl for first place in order to win the money.