Restaurant Review – Sage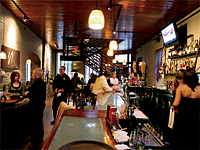 I love Soulard.  You've got your typical bars and pubs, a lot of great events and parades and a Farmer's Market full of great finds.  But, if you're only familiar with the alcohol and the market fresh food, you're missing out on the many restaurants hiding throughout the area, including Sage.
Sage was a great date spot as far as layout goes, but it wasn't dimly lit or snazzed up with fancy decor – just very laid back and nice.  This was a different night for me because I was actually craving a steak and decided to try Sage's 6oz. Filet Mignon.  I ordered the steak medium, and although it was a little more well than I would like, it was still one of those perfectly tender steaks that require no extra seasoning or sauce to jazz it up.  My date had the 15 Spice Ribs and I could NOT keep my fork away from his jicama honey slaw…so good.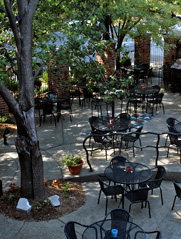 The prices were very reasonable depending on what you order – normal prices for a steak all the way to a salad.  Monday through Wednesday you can get any bottle of wine half price with the purchase of two entrees…something we definitely took advantage of.  Visit on Tuesdays from 5-7 and receive Seared Yellowfin Tuna Sashimi, Lynch Street Wings or any other appetizers for half price.  If the prices still seem too high – check out Restaurant.com for discounted gift cards to Sage.
Sage is definitely worth the visit.  The servers were very attentive and the food was great!  Visit Sage at:
1031 Lynch Street @ 11th & Lynch in Soulard – Saint Louis, Missouri 63118
phone 314.256.1203 –  fax 314.256.1206