Best Canceled TV Shows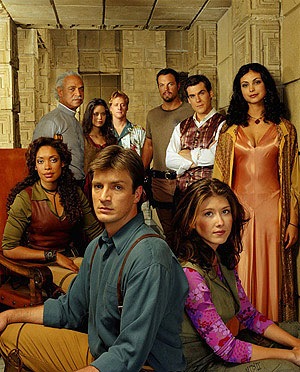 1. Firefly
Following the crew of a Firefly Class Spaceship in the 2500s, Firefly takes place in a time when humans are settling other planets. There was a time where there was only two remaining superpowers, the US and Chinese. They eventually infused to create a new government called The Alliance. Firefly follows some members of a losing side of a civil war, called "The Browncoats".  It's an ensemble cast consisting of nine characters. With such a large cast it was amazing how fully realized every character was and just how much of their backstory you learned. The cast is what made this show so memorable and funny. The Sci-fi western nature of it is what kept it interesting. No character was pure, but most of them have good intentions. It's a story of the little guy and you want to root for them all the time.
What Happened? Yet another example of a good show ruined by a network. The show aired out of sequence because FOX executives were not a fan of the original pilot. This made the plot a lot harder to follow than what was necessary. It was also aired in a slot that did not lend itself to getting a lot of viewers. It was eventually cancelled due to ratings. Its DVD sales were good enough that Joss Whedon was given the greenlight to make a movie called Serenity which continued the story. It made decent money at the box office, but not enough to warrant sequels.  Whedon has talked about continuing the series through comic book form such as he has with his Buffy and Angel series.
So, you may or may not agree with my choices. So let's hear yours!