"Alice in Wonderland" Has Record Breaking $40 Million Friday!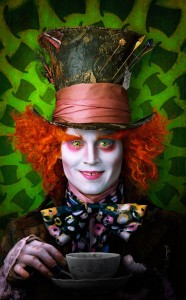 Tim Burton's Alice In Wonderland set a new high for March openings. The film brought in $41 million including its 3D and IMAX 3D screens, making it the biggest Friday on record for March, and puts it on pace to easily beat the previous weekend record in March, which up until this point was held by action film, 300.  Three years ago 300 set the record with a $70 million opening weekend.
The take is far above what industry professionals predicted, and once again scores another win for the 3D format. The film which debuted on Friday has faced mixed critical reaction. (Read our reviews here.) Although, it may produce a high point in Tim Burton's already popular career. His previous best opening weekend was from his Planet of the Apes remake, which took in $68 million on its opening weekend.
No doubt this will go a long way for the 3D format. It was announced last week that many new films such as Green Lantern will be appearing in 3D. (Read the article here.) Upcoming release, Clash of the Titans, was also moved back a week to make it a 3D picture in post production. It is obvious that 3D is a format that is here to stay.
Do you think this film did well because of the 3D, the story, or because of director Tim Burton and his star Johnny Depp? Let us know in the comments below!