5 Comics That Should Be Movies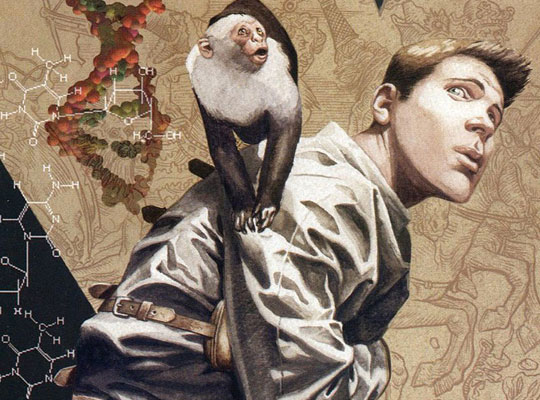 This might make a better mini-series than film, but if done right the first film could lead to a series of popular films.  Y: The Last Man is one of the most popular Vertigo titles DC has ever printed. The success of the series led writer Brian K. Vaughn to  job on the ABC hit, Lost.  The story centers around Yorrick Brown, the last living human male on the planet, and his pet monkey, Ampersand, who also the only male left of his kind as well. The story follows Yorrick's quest to reunite with the love of his life, while searching for why he is the only male alive. The series received Eisner Awards for its clever writing and deep storyline.
A Y: The Last Man film would have all the elements of a blockbuster. It has incredible humor, an intriguing storyline, believable characters, and an engaging love story.  Which is why the outlook is…
Outlook – GREAT
New Line Cinema acquired the rights to the series over six years ago, and originally had D.J Caruso on board to direct, with The Dark Knight writer, David S. Goyer, on board to produce and possibly write.  However, that was back in 2007. Since then Caruso has backed out of the directing duties (still on board for producing), and numerous actors and directors have been rumored to be attached to the project. It seemed very likely for a while that we would see Shia LeBeouf team up with Caruso again, and take on the lead. However, LeBeouf seems to have moved on.
Back in January it was announced that director Dan Tractenberg would be taking over the directing duties. Tractenberg doesn't have any feature films under his belt, but he has a few compelling short films which landed him the job.  Most likely actors will be cast sometime this year, with production starting later this year.
Dream Director – Dan Tractenberg
Why not? Reports say New Line is thrilled with the script, and wouldn't hand a project like this to a new director unless they should a lot of promise. If you've watched Tractenberg's viral hit, Portal: No Escape, you can glean that there is a lot of talent there. I'm always a fan of giving new blood a shot, and it's very possible he can bring something to the production that might be missing from a top director.
Dream Lead Actor – Zachery Levi
He's getting a bit old for the role, but he's lobbied for the part in the past.  Watching Levi in the NBC series, Chuck, it's apparent he'd be a good fit for Yorrick, who isn't a whole lot different from Chuck. Both characters are a bit geeky, both fall in with secret agent type people, and both have enormous burdens to carry that no one around them could possibly understand. The only thing Levi lacks in name recognition to carry the production. That could be filled by one of the other members of the main cast. Either that or feature the monkey in every trailer and TV spot.
Next Page: The Sandman