Movie Review: 'Dead Man Down' Starring Colin Farrell, Dominic Cooper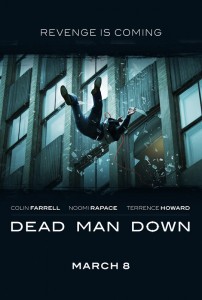 Colin Farrell has been a hot streak as of late, with some great role choices. First, he stole the show in Horrible Bosses. He really was about the only reason to see the movie. Then, he had an Academy Award worthy performance in the film In Bruges and turned around with a delightful role in Seven Psychopaths. He continues the hot streak with his role as a vengeful husband in Dead Man Down. He plays a man out for revenge, after his family was killed by mobsters.
Make no mistake about it; casting and directing carry this movie. The story is entertaining and for the most part logical, but it has a bit of a rushed feeling to it at times. Terrance Howard's role as Alphonse, the gangter boss, could have been a great one, but the viewer never gets enough time to get to know him. In fact, the audience does not get much of a chance to have an emotional investment in anyone but Farrell due to a rushed script. However, that is really the only complain I have about the film.
Swedish director, Arden Oplevs, scores with his first American film. He is most known for the original Girl with the Dragon Tattoo. That film also starred Noomi Rapace, who plays Beatrice in DMD. She also delivers a solid performance, as a beautician who has been scarred on one side of her face after a car accident. She brings a strong sense of vulnerability to the role. The scenes with her and Farrell are some of the best in the film. They both do a great job of portraying their inner pain and reluctance to move on.
Overall, Dead Man Down is a very entertaining and somewhat touching film that has largely flown under the radar of critics and audiences in its first week of release. Hopefully, word of mouth gets around about the film and it has a solid run, or at least a solid rental run. With some of the crap the Hollywood has put out lately, this film is definitely a breath of fresh air.