Wizard World St. Louis Comic Con 2017: A Weekend in Review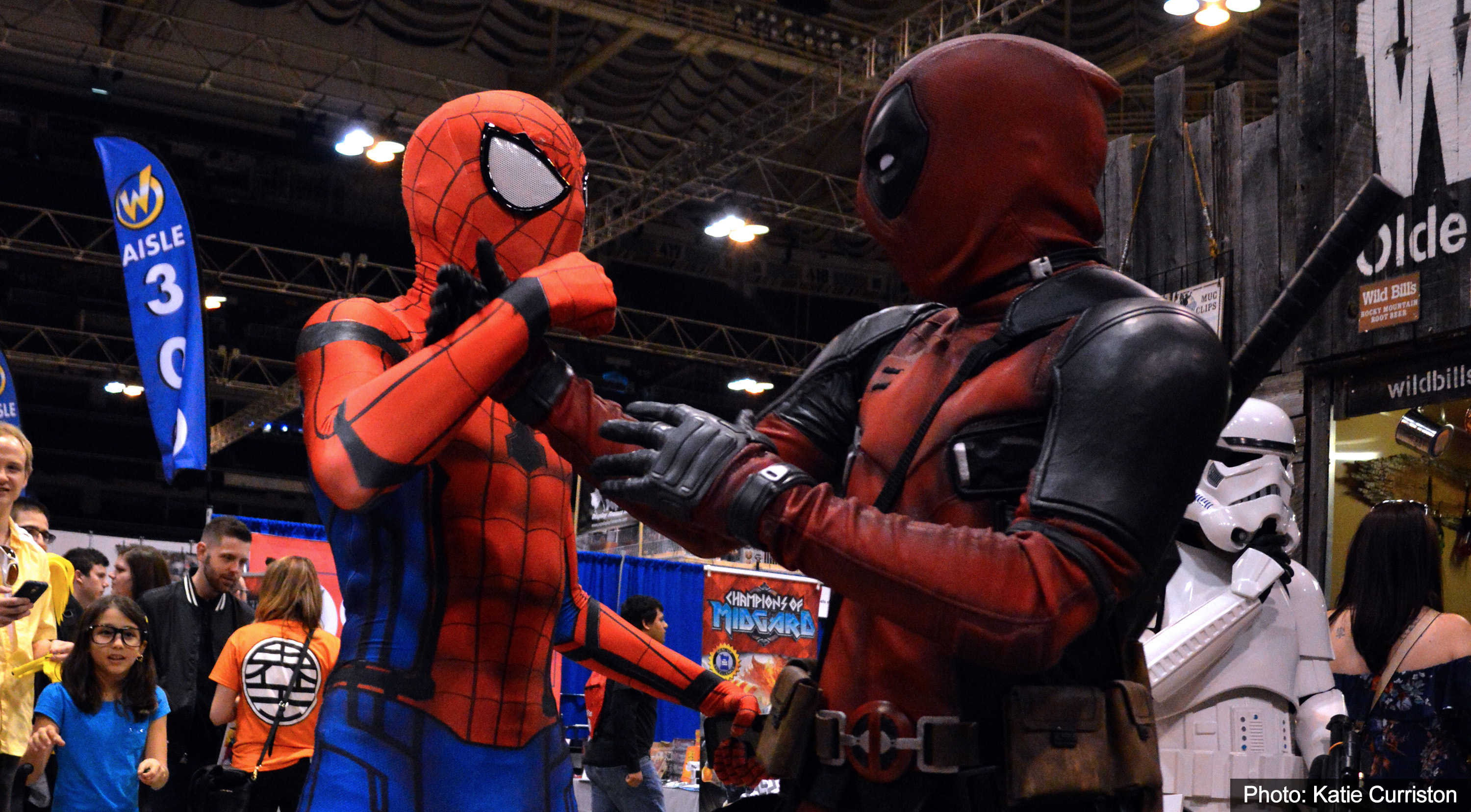 Saturday
Anticipation kept me from getting much sleep. I've been a fan of cosplay for a long time and, now that I was finally suiting up, I could barely contain my excitement. With a Vault 111 suit from EBay, a few props collected from various sources, and the deluxe Bluetooth Pip-Boy from Thinkgeek.com, I was ready to hit the floor and see where the adventure led me.
My sister Stephanie came along this year to experience the magic… literally. Despite the celebrity guests James and Oliver Phelps (Fred and George Weasley in the Harry Potter films) belonging to House Gryffindor, Stephanie donned her full Slytherin gear. Syncing my phone to the Pip-Boy, I tuned in to Diamond City Radio on our way in. Travis may not have the confidence of your typical DJ, but the tunes were rockin!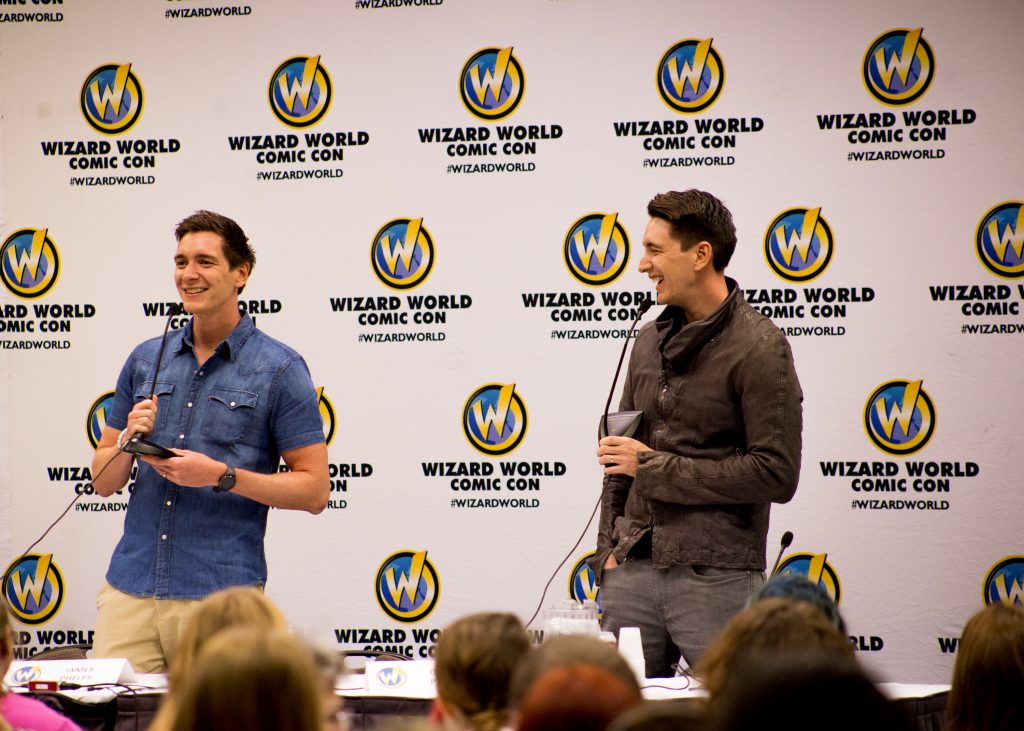 Photo Credit: Kevin Brackett.
Like a beacon, the Pip-Boy drew in all of the Fallout fans. I was stopped for a picture before I even got into the entry hall! Shortly after seeing a fellow vault-dweller, I decided I would let go of my hatred of selfies and dive right in. I found literally every other person in a vault suit and snapped a selfie with them. I was delighted to geek out with each of them over our mutual love of the game, as well as the sheer awesomeness of my Pip-Boy.
Soon enough I had other people coming up to take my picture or pictures with me. I felt like a celebrity after one child's mother asked, "Are you the Vault Boy?" All of my con experiences have been behind a camera, so it was refreshing and extremely fun to see what life was like on the other side. Everyone I met or talked with was so warm and open. There was a sense of comfort I hadn't felt when walking around in street clothes.
In costume, every exchange felt more meaningful… and not just because I was wearing a skin-tight jumpsuit and a wrist computer. There's an unspoken bond between cosplayers. No matter how much or how little work they put into their costume, every single one of them is putting themselves out there on a limb and saying, "This is what I love." I respect that kind of passion.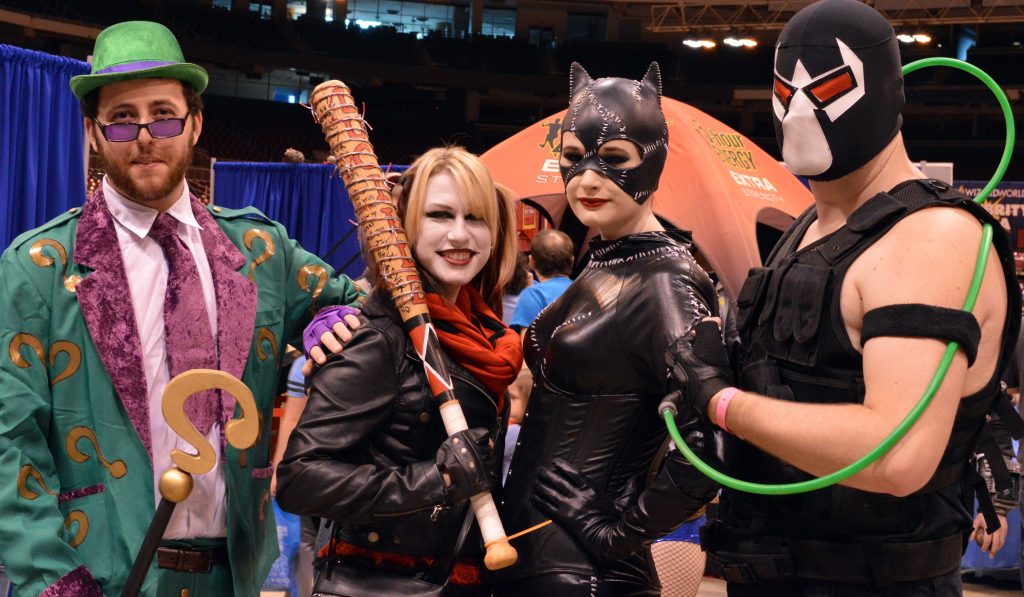 Photo Credit: Katie Curriston.
Of course each costume has its own level of difficulty when walking around the convention floor. My vault suit was amazingly comfortable. It breathed, had good range of motion, and didn't ride up like I'd feared. The heavy boots, Pip-Boy, and satchel (literally filled with caps) did take their toll after a few hours, however. My being out of shape wasn't going to stop me from having a good time though. I ignored the strain, and pushed on.
I sat in on a Star Wars fan experience panel in the early afternoon. It was partially to take a break, but mostly because… you know, Star Wars. To my delight, I was chosen to participate in one of their games. Two pairs faced off, one person with their back to a projector while the other gave clues to what appeared on the screen. Each team had a minute to guess as many as possible. The first team stumbled along the way, but was able to get six points. I gave clues to my partner, who was able to guess nine! We each received our pick of several prizes, and I walked away with a Darth Vader Funko Pop.
The day just kept getting better, as the Guardians of the Galaxy 2 panel rolled around. While Michael Rooker and Sean Gunn took the stage to address the massive crowd, I posted up with the photographers just off to the side of the stage. Sean Gunn, showing pride in his home town, took off his jacket to reveal a Willie McGee jersey.
Throughout the Q&A panel, both Gunn and Rooker poked fun at each other and some of their costars. When the line for questions eventually died down, I decided to approach the microphone myself. Waiting for my turn, Sean mentioned the Caturday Night Fever after party for charity. Rooker, in classic Rooker fashion, took the opportunity to jump off stage and start handing out fliers for the party. We were face to face by the time I took the microphone to ask my question. As a good St. Louisan, I gave Sean the props he deserved on sporting the awesome, old school Willie McGee jersey. As a good nerd who loves adrenaline-fueled action sequences, I asked Michael Rooker "If you could fight anybody as Yondu, who would it be?"
"Anybody!" Rooker responded with a raspy enthusiastic laugh before talking about his love of action sequences – whether it's Guardians, or the Walking Dead. The man just loves to fight. Unfortunately, he said, just about all the fighting he does in Guardians of the Galaxy is with his arrow. Whenever he psyches himself up for a big fight sequence, he gets on set to hear James Gunn give him directions to whistle rather than throw a punch.
It wasn't long after the Guardians panel that the costume contest started. I had contemplated all day about entering, but knowing I bought 90% of my costume felt like it was unfair to walk the stage with people that spent months carefully crafting. Not to mention the fact that I saw several other vault dwellers on the floor, and figured at least one of them would do it. I tend to get annoyed by too many repeat costumes; I swear they need to put a cap on the amount of Jokers that can enter.
Despite this year being smaller, the costumes were still absolutely amazing. From a full set of bewitching Sanderson Sisters to a giant furry Gengar that would give you nightmares, everyone that entered the contest did a damn fine, bloody good job!
Once everyone had walked the stage and the judges finished deliberating, they announced the winners.
Honorable Mentions: Ellen Ripley, Zarya & Mcree, Yuri on Ice
Best Group Costume: The Sanderson Sisters & Billy
Best Female Villain: Anew Sefet (Mandalorian)
Best Male Villain: Voldemort
Best Female Hero: Warrior Princess Mononoke
Best Male Hero: Spartan Batman
Best in Show: The Armors of Skyrim
Each year after the costume contest, Wizard World will host an after party on site at America's Center. This year, since Gene Simmons was attending, they held a concert at the Pageant.
I ended up attending an after party in the area, which was more fun than I could have hoped for! Hosted by the lovely Victori Belle at The Crack Fox downtown, this party was probably the most fun I've had since the very first Wizard World St. Louis in 2013. Many cosplayers were in attendance including the illustrious Aaron Rabe, or Captain Jack Sparrow as most attendees know him. After a wonderful night of drinking, dancing, and letting people play with the Pip-Boy – I was exhausted!