Video of Jay Leno Giving Conan Show in 2004, "Conan, It's yours…"
Well, this is most likely to add more fuel to the flames. Someone has posted online a video of Jay Leno discussing the change in late night television on NBC in 2009. In it he gladly hands over the reins to Conan O'Brien, and talks of how he will be ready to retire in 2009. Guess that just isn't so, eh Jay?
For a healthy dose of irony, check out this article from the New York Times in 1992: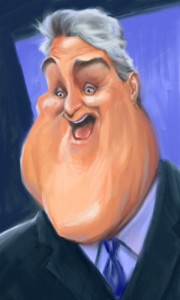 Jay Leno, expressing what he called "surprise and disappointment" with NBC executives, said yesterday that he believed his performance as the host of the "Tonight" show should have more than satisfied the network and that he did not deserve to be threatened with losing the leading show in late-night television to David Letterman.
"Am I crazy?" Mr. Leno said in a telephone interview. "The ratings are going up, the advertisers are happy and so are the affiliates." And yet Mr. Leno said he had not received any assurances from NBC executives in New York that he would not be dropped in favor of Mr. Letterman by Jan. 15. That is the deadline NBC is facing to match a CBS offer to give Mr. Letterman about $16 million to star in a nightly talk show at 11:30, the same time as the "Tonight" show.
"I am disappointed," Mr. Leno said. "I feel like a guy who has bought a car from somebody, painted it, fixed it up and made it look nice and then the guy comes back and says he promised to sell the car to his brother-in-law." Go Elsewhere? 'Of Course'
Mr. Leno said he would "obviously leave NBC immediately" if the network decided to give the "Tonight" show to Mr. Letterman. He said he would absolutely refuse to do a show in the 12:30 A.M. spot now occupied by Mr. Letterman's show, "Late Night," and would indeed consider creating the same problem for NBC that Mr. Letterman's proposed deal with CBS caused.
Read the rest of the article here.