Joss Whedon In Talks With FX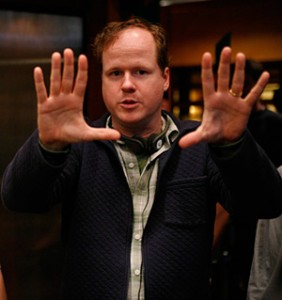 With all the buzz of the awards season and of the beginning of a new late night feud, other news is somehow lost in the crossfire. Normally, a story like this would be big news. A major show runner like Joss Whedon talking to a cable network? Yup, It seems that Whedon's work with FOX might finally be done now that Dollhouse is closing out.
FX President John Landgraf told reporters at the Television Critics Association press tour that he would be meeting with Whedon about potential future projects with Whedon. "You know, his representatives called and scheduled a lunch," Landgraf said. "I think I'm supposed to have lunch with Joss in the next two or three weeks, and I have, you know, enormous respect for him. By the way, if you look at Shawn Ryan, who created 'The Shield' and is running 'Terriers,' Shawn learned at the feet of Joss Whedon in the Joss Whedon school and Carlton Cuse, by the way as well. So I don't really know Joss, but I'm really looking forward to meeting him. I love his stuff."
"I've been now at the channel for six years. We've made nine drama pilots, and we've picked eight of them up," said Landgraf. "So we really don't make very many pilots that we don't order. Sometimes we have to go in and do a little reshooting or a little recasting, but I think we tend to grapple and struggle with that question of, if this show is really well executed, will we program it, will we put it on the air. We tend to grapple with that question before we pick shows up. And, again, we don't have to feed as large a mouth as a 15 hour a week broadcast network like FBC or a 22 hour a week broadcast network like CBS, NBC, or ABC. So we had the luxury of time and sort of careful consideration. That said, I think we'll probably only make one drama pilot right now because we have seven drama series currently on our roster. We have three that have not aired yet that we're preparing 'Justified,' 'Terriers,' and 'Lights Out.' And I think, in all probability, if we make a drama pilot, we'll pick it up, and probably we only need one sort of back up drama right now."
This could be a major move for Whedon. FX is a great place for Whedon, it is a major enough cable network that would catch all the hardcore Whedonites, and plenty of new viewers that FX grabs with its edgy programming. Imagine if his last couple projects had been on a cable network where they could've played out a bit longer (and also had numerous repeats).
I was a bit disappointed by Dollhouse, but I look forward to what he can come up with next.