Win Passes to "TOOTH FAIRY" at the St. Louis Advance Screening
ReviewSTL invites you to enter to win passes to the St. Louis advance screening of "TOOTH FAIRY"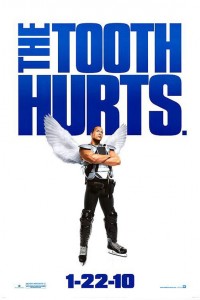 Enter for your chance to win a pass good for two!
Synopsis:
"The Tooth Fairy," also known as Derek Thompson, is a hard-charging hockey player whose nickname comes from his habit of separating opposing players from their bicuspids. When Derek discourages a youngster's dreams, he's sentenced to one week's hard labor as a real tooth fairy, complete with the requisite tutu, wings and magic wand. At first, Derek "can't handle the tooth" – bumbling and stumbling as he tries to furtively wing his way through strangers' homes-doing what tooth fairies do. But as Derek slowly adapts to his new position, he begins to rediscover his own forgotten dreams.
In order to enter the contest, simply leave a comment at the bottom of the page with the reason why you want to see the movie. Please feel free to make it as fun / entertaining / believable as you want. Winners will be chosen at random and notified via e-mail. NO PURCHASE NECESSARY.
Screening is Thursday (1/21) 7PM @ Great Escape at Gravois Bluffs. Please note that winning passes to "TOOTH FAIRY" does not guarantee admission to the film. You must arrive early as seating is first-come, first-served. It is usually safe to arrive at least 1 hour or more before show time!